Lamkhaga pass blog [May 2016 ] by Aritik Das
The Lamkhaga Pass is one of the toughest pass which connects Kinnaur district of Himachal Pradesh with Harshil in Uttrakhand. We started our trek from Chitkul the last Village of sangla valley in Himachal, though it can be done from Harshil side also. This trek is a fairly remote trek, which was first crossed by Greek-British author and mountaineer Marco Alexander Pallis in 1933.
Lamkhaga pass snowfiled
Dudhin pass, Chotkhaga Pass & Lamkhaga pass are three conseecutive passes in Kinnaur district, and all three passes connects Kinnaur district of HImachl with Harshil. Local villagers of Chitkul takes their goddess to Gangotri once in every three year, and they go through one of these three passes. This trek starts from beautiful Baspa valley, enroute through some of the most remote areas & unknown snowcapped peaks in Himachal Pradesh & the lush green meadows of Jalandhari Gad valley in Uttarakhand.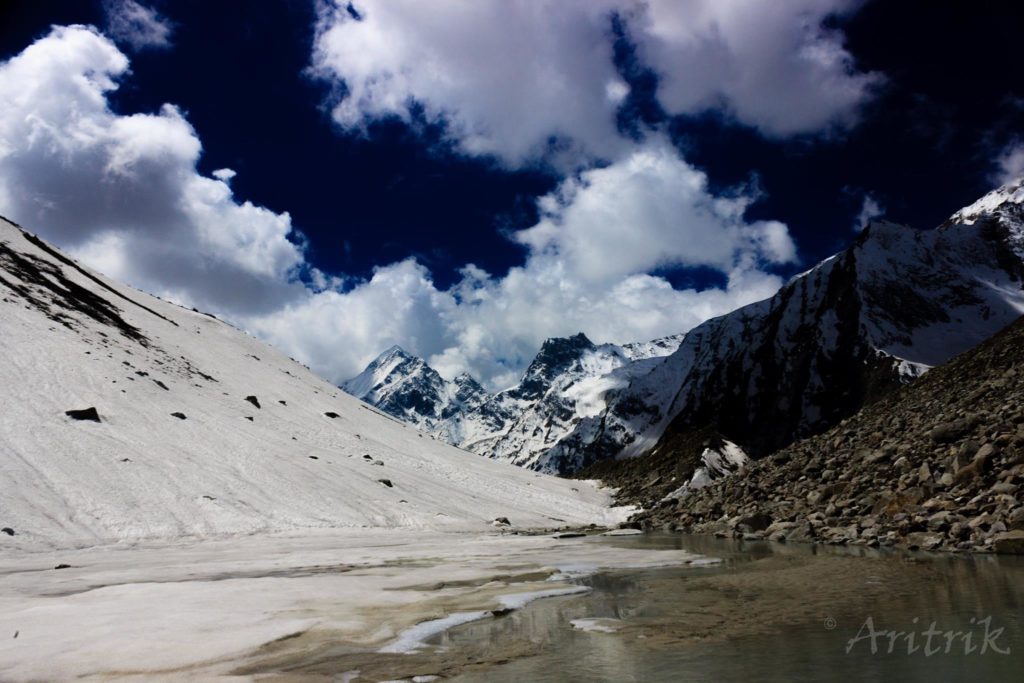 Lamkhga pass base camp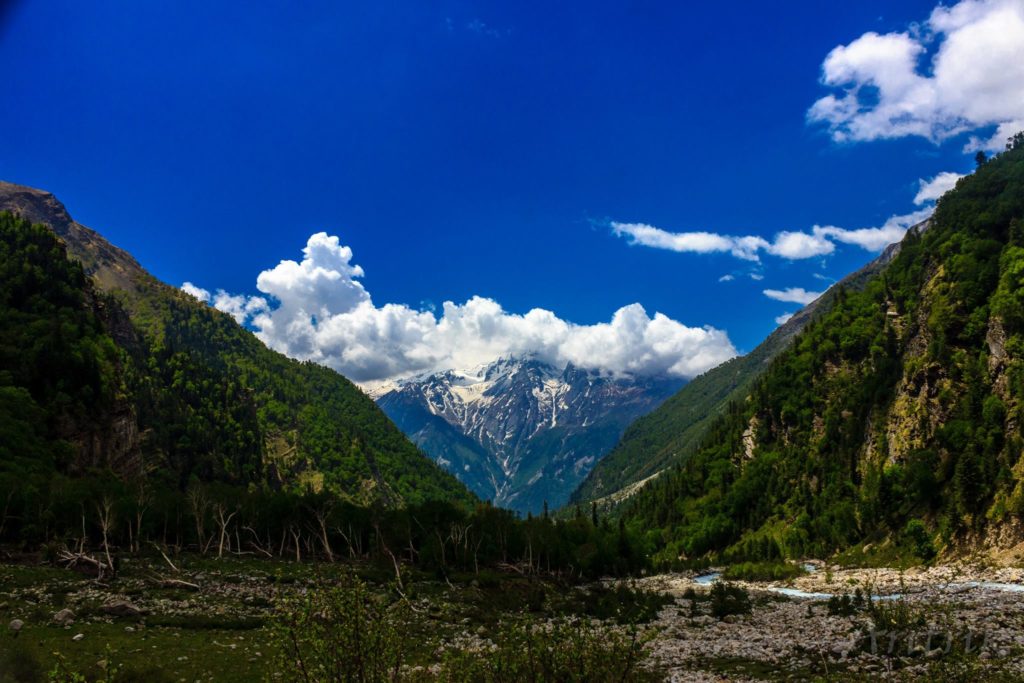 Reaching Chitkul is very strenuous, Our flight to Delhi from Kolkata delayed due to bad weather hence we missed our bus from Delhi ISBT to Shimla. So we booked a shared cab upto Shimla, we were three and found our co passenger up-to Chandigarh. A whole night journey, street signs, power lines, they keep on flashing, flashing by. I was feeling great inside just thinking its a matter of couple of hours & I'll see sun rise at Shimla. As our cab was shared so we dropped the other person at Chandigarh, nd we keep driving into the night. After reacheng Shimla at 9'o clock in the morning we booked another cab towards Chitkul after taking our breakfast and finally near about 4:30 at afternoon precious moment came when no signal in mobile (apart from BSNL), no mail, no facebook, and yes, we are at Chitkul.
First time I came chitkul on 2011, since then I feel bad for those who plan to visit the Himachal and ends up visiting Shimla or Manali along with Rothang pass. What a lost opportunity for them to experience the the original beauty of Himachal which lies in locations beyond those popular hill stations. I that time I heared that couple of trek starts from Chitkul, so this time my google key word was 'Trek starts from Chitkul'. Next day morning we decided to roam around the Chitkul village untill our other team members Guide, sherpas reach, and we had no option to communicate with them. All of them came at late afternoon and we gathered and had our first face to face interaction, got to know each other, met our guide Sonu Negi ( Raacho Trekkers ), planned our next day schedule.
Next morning I woke up early to take the bath for one last time before leaving the civilization for one long week. At 8'o clock in the morning we met at assembly point, everyone is ready to start our long waited journey. While I was having breakfast I was thinking that lines again 'On bended knee is no way to be free Lifting up an empty cup, I ask silently That all my destinations will accept the one that's me So I can breathe.'
So our plan was like below, but we didn't wait at advanced base camp at Chitkul side, we started our journey early in the morning, around 3'o clock in the morning and reached Advanced base camp around 11:00 in the morning, and the weather condition was so good & we decided to cross the pass on the same day. Indeed it was a very strenuous, but when we reached at the top, aah! it was just splendid. And I had another new experience while coming to the downstream towards Harshil side. It was real steep & only option we had is to slide. For the first time it was horrifying, but once you get the enough confidence, you'll just love to do it again n again.
Itinerary
Day 1: Chitkul (3435 meter) to Nagasthi – Rani Kanda (3700 meter) ?10 km 5 hr trek .
Day 2: Rani Kanda to Dumti (4050 meter) – 9 km/5 hr trek.
Day 3: Dumti to Gundar (4450 meter) – 15km/7 hr trek
Day 4: Gundar (4400 mts) to Lamkhaga Pass Base Camp (4400 meter)
Day 5: Lamkhaga Pass BC to Base Camp 2 (Kinnaur)
Day 6: Lamkhaga Pass BC(Kinnaur) to Lamkhaga Pass BC (Gangotri Side) via Lamkhaga Pass (5282 mts/17320 ft) / 14432 ft) 11 km/6 – 7 hr trek
Day 7: Lamkhaga Pass Base Camp to Kyarkoti (3820 meter) – 16 km/7 – 8 hr trek
Day 8: Kyarkoti to Harsil (2400 meter) – 14 km/6-7 hr trek
Read Pawan Ranta's answer to What is the best time to visit Chitkul? on Quora

(1 votes, average: 5.00 out of 5)

Loading...