Lamkhaga pass blog by Rohit Bhat
[Chitkul to Harsil  via Lamkhaga Pass (5284mtr).  MAY – June 2015 ]
ITINERARY :
28th May: Reach Base Camp Chitkul by road from Shimla
Trek Starts :-
29th May: Chitkul (3435 meter) to Nagasthi – Rani Kanda (3700 meter) ?10 km 5 hr trek .
30th May: Rani Kanda to Dumti (4050 meter) – 9 km/5 hr trek.
31st May: Dumti to Gundar (4450 meter) – 15km/7 hr trek
1st June: Gundar (4400 mts) to Lamkhaga Pass Base Camp (4400 meter)
2nd June: Lamkhaga Pass BC to Base Camp 2 (Kinnaur)
3rd June: Lamkhaga Pass BC(Kinnaur) to Lamkhaga Pass BC (Gangotri Side) via Lamkhaga Pass (5282 mts/17320 ft) / 14432 ft) 11 km/6 – 7 hr trek
4th June: Lamkhaga Pass Base Camp to Kyarkoti (3820 meter) – 16 km/7 – 8 hr trek
5th June: Kyarkoti to Harsil (2400 meter) – 14 km/6-7 hr trek
DAY1 :
CHANDIGARH- SHIMLA:
Pahadi Hospitality at its best: All restaurants were closed by the time we reached Shimla. After searching for food nearby passport office without any vehicle(our driver had left after dropping us at the hotel) we failed to get one. It was 12am,the hotel manager and his assistant had to specially prepare rice and dal for us from their own personal kitchen.
DAY2:
SHIMLA-KALPA
Enchanting Kinnaur, Irritating hydro-projects, awesome curvy drive and the humble driver :
First of all thank you Vikas for arranging the car. Will make sure to recommend him to my friends if needed at all in the future.
Today's journey began with Aloo paranthas and a glass of bournvita just in the outskirts of Shimla. While eating parathas, we never thought that we will be hating paranthas so much at the end of our journey and we still do while I type this, however you will come to know as the Tlog progresses. Weather was pleasant and eating fresh Narkanda cherries was surely a 'cherry on top' to add in this journey.
The tea and the mischievous kids playing at Wangtoo tea house was fun. One layer of cloth comes out of the bag at this place.Brrrrr! Though we were driving on NER, the vistas were getting more beautiful. We reached Rakpa regency at Kalpa @10pm passing through muddy Karcham-Powari stretch to beautiful dark town of Reckong Peo, through clouds and rains which got vanished later when we entered our room. The moonlit Kinner Kailash range was the most beautiful vista ever and the long tiring journey was totally worth it for this.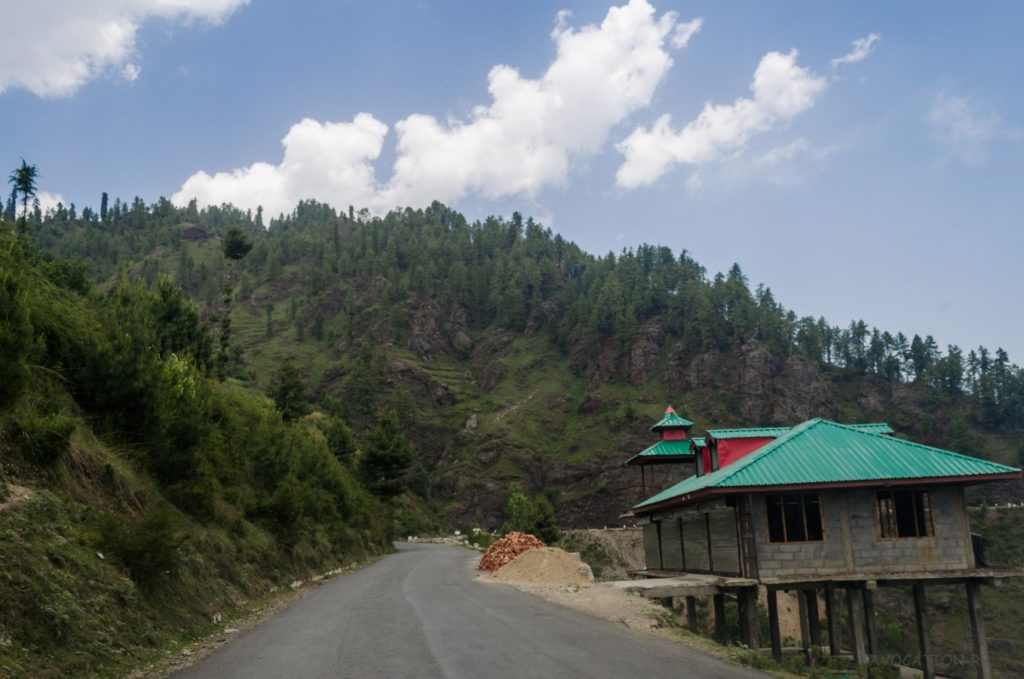 DAY3
KALPA – Hike to CHAKKA KANDA (~4000mtr)- KALPA and drive to CHITKUL
Chakka is a small peak which lies behind and above Kalpa town. Though a small hike for little bit more than 1000mtr, its a very good place for acclimatization for all the trekkers/travellers in that region. Just below the peak, lies Chakka Kanda, a lake which is culturally important for Kinnauris. It takes 2 -3 hours to reach.
We hired a car to Chitkul at 4pm from Kalpa after descending down from Chakka Kanda.
Hotel in Kalpa: Rakpa Regency & Hotel in Chitkul : Shenshah/Shahenshah/Shen Sha or whatever you call it. Both the properties are run by Mr. Sandeep Karar.
All the rooms were charged 1500 INR/room after immense bargaining in advance as we did not had any options left. The stay at Kalpa has to be the best for its hospitality and views.
Hotel to Chakka Kanda
Time taken: 2 1/2 hours
Height gained : 800 metres. Just before lake we stopped due to time restrictions.
That Morning , Kalpa [Lamkhaga pass expedition 2015]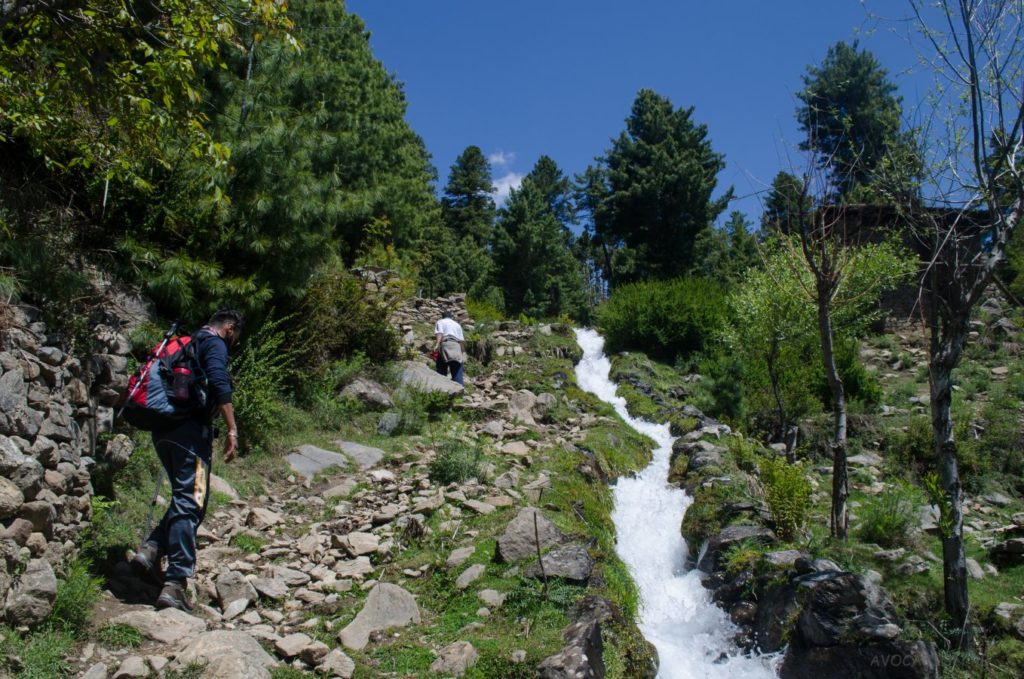 DAY 4
CHITKUL.
Starting our day with super hot chai with amazing clouds in the sky. Parathas and Omelette were the only option for breakfast. It was an acclimatization day for all and we decided to start it by 11am. Our guide and the support team reached at Chitkul at 5pm. There were 8 porters and 1 cook along. They camped on the banks of river Baspa.
Meanwhile,we unpacked and packed our rucksacks again just to make sure the weight is balanced accordingly that day.
Time taken: 2 hours
Height Gained: 130mtr, towards Nagasthi ITBP and small hill on the left.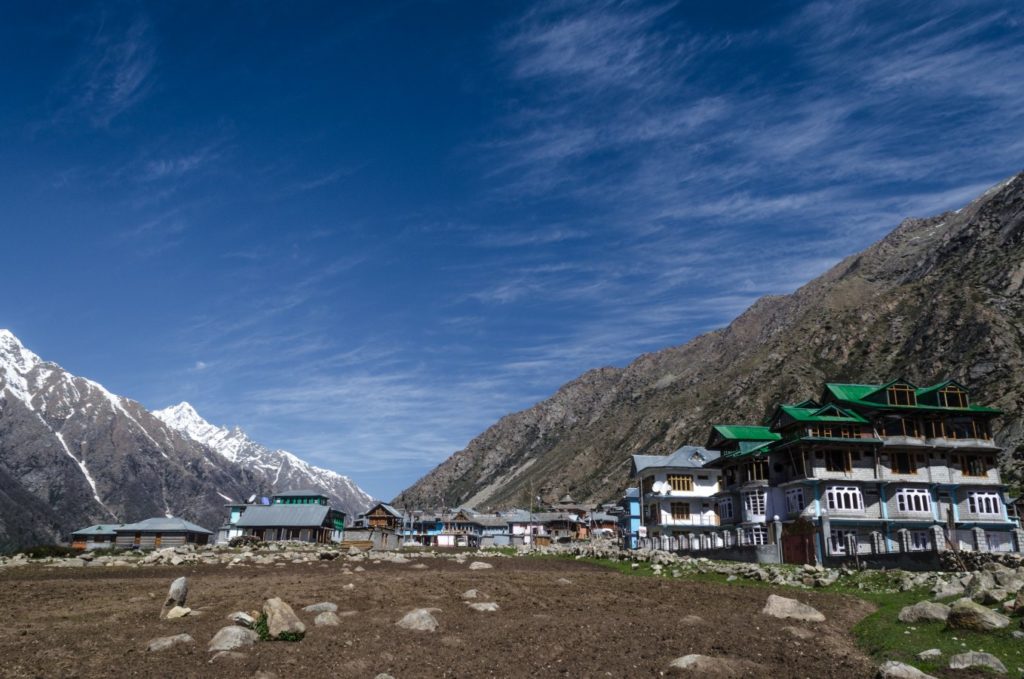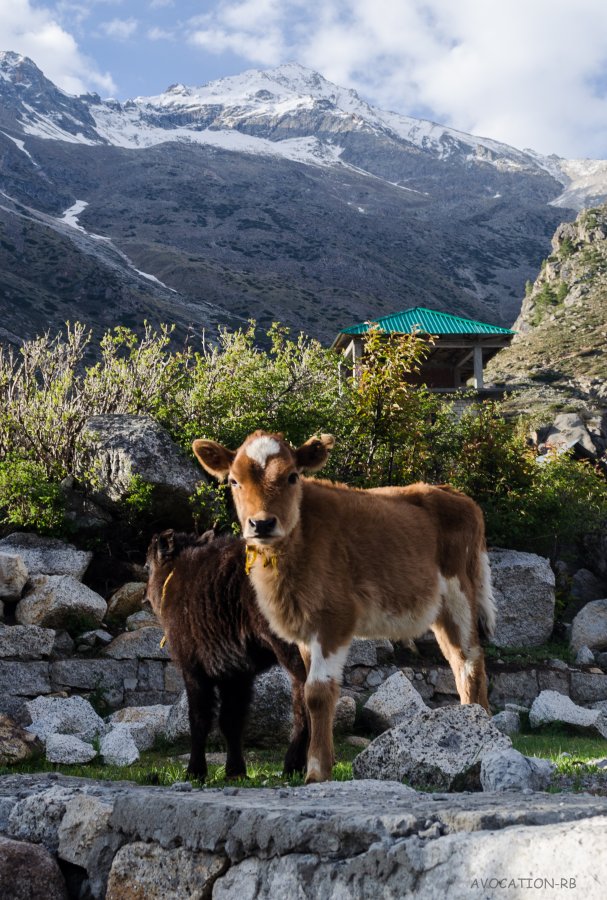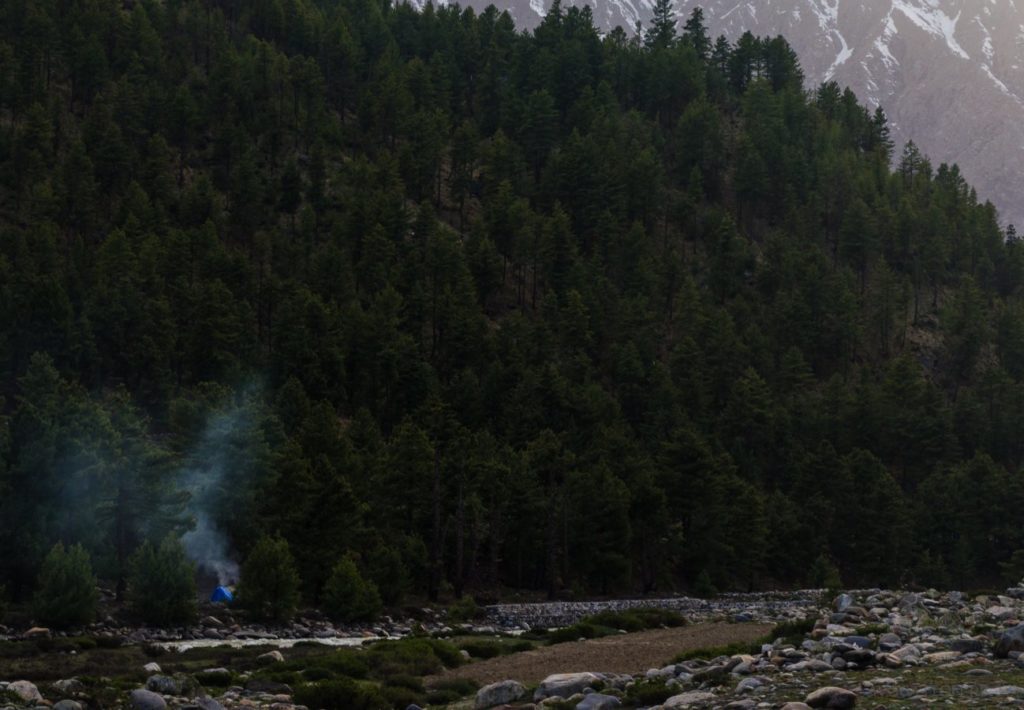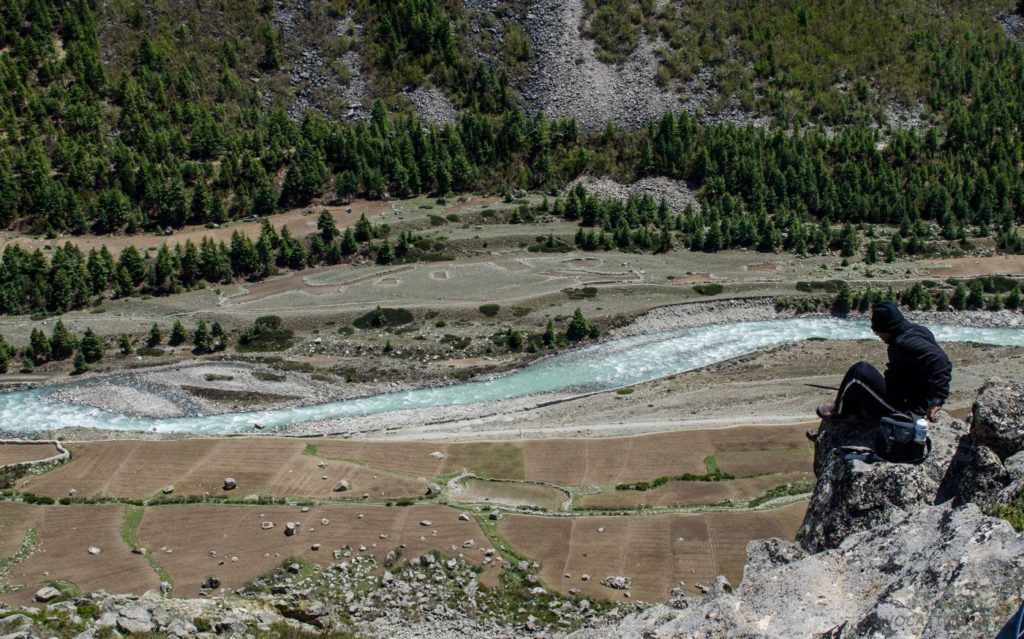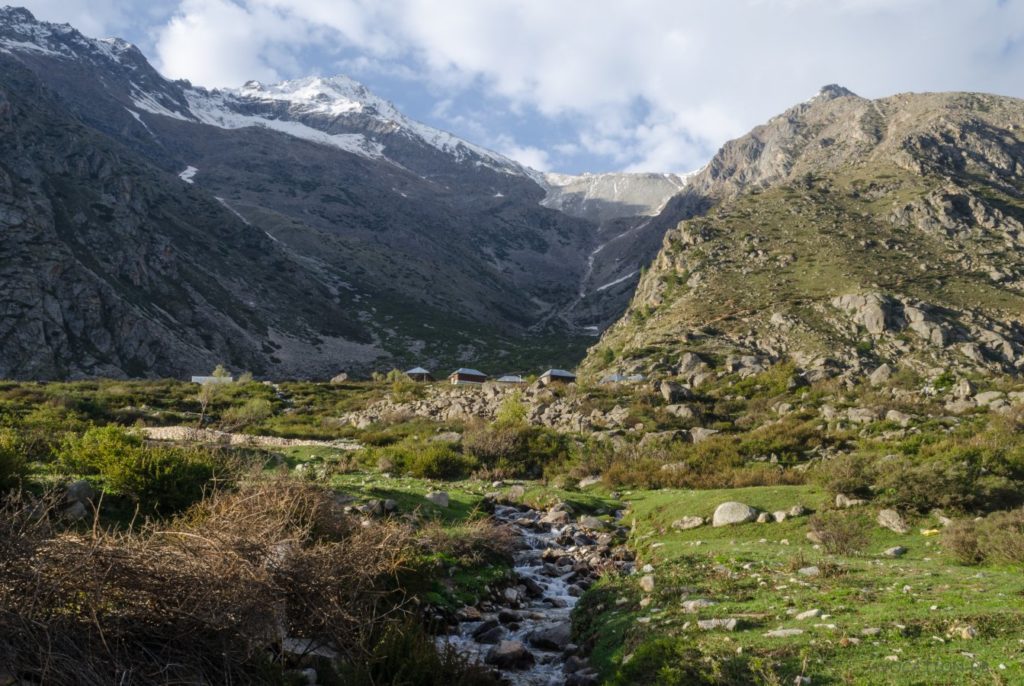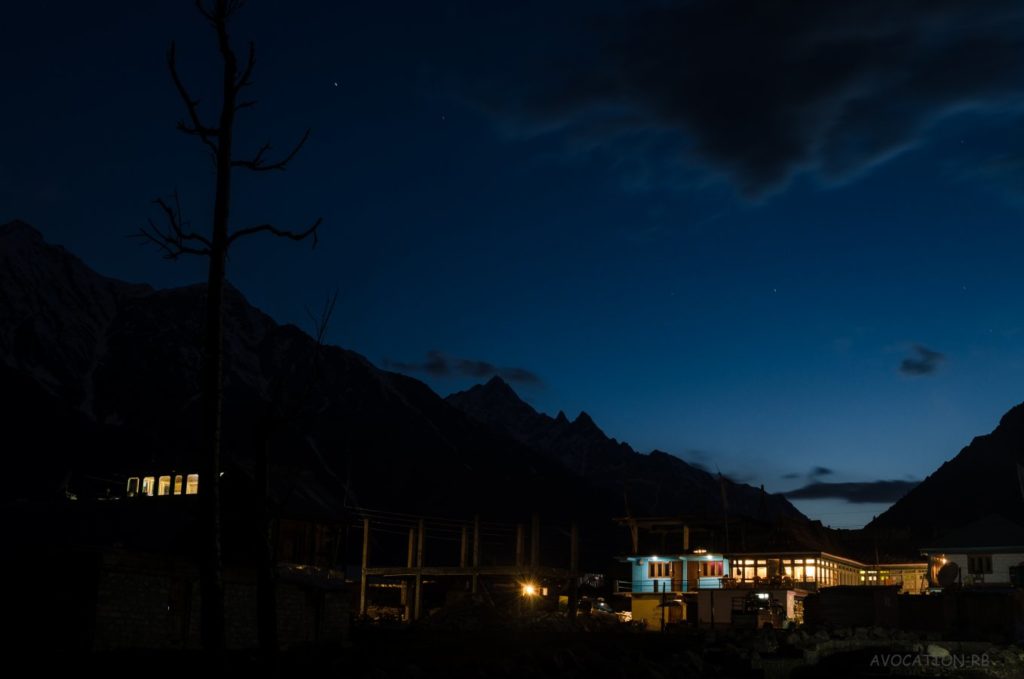 Who was Marco Pallis and why Lamkhaga ?
A Greek-British author and mountaineer who was famous for his writings on Tibetan Buddhism. He made a first ascent of Leo Pargial(6790m), one of the highest in Kinnaur Himal(not be confused with Reo Purgyal) starting from Harsil all the way via unexplored/climbed LAMKHAGA PASS and then into Sutlej-Spiti valley to climb the peak in 1933. Well, we are doing right opposite to him what he did.
Can this trek done from both the sides?
Yes. It takes ~7 to 10 days from both the sides depending on the weather.
What is the route?
From Chitkul :
Chitkul-Nagasthi-Ranikanda-Dumti-Nithal Thatch- Base camp(Baspa Glacier)-Advance base camp- Lamkhaga pass- Base camp(Harsil side)-Kyarkoti-Harsil
From Harsil :
Harsil-Banswari nalla- Gangnani -Kyarkoti-Base camp(Sukha thal)-Advance base camp(aka Pass ke neeche)- Lamkhaga pass-Base camp(Chitkul side)-Dumti-Ranikanda or Chitkul.

Personally I feel the ascent from Harsil is more daunting. Continuous ascent! unlike gradual incline at many places from Chitkul side. But both are equal in difficulty.
Do we need a Inner line Permit for this trek and from where to get it?
DC office in Reckong Peo for people starting from Chitkul side.
DC office in Uttarkashi for people starting from Harsil side.

Porters are easily available from Uttarkashi or Gangotri(UK) and Reckong Peo(HP) and NOT HARSIL OR CHITKUL.
Must Equipments:
Ropes, Ice Axe, Gaiters, Alpine tents(neither t3, nor t2 please) and yes Microspikes will be helpful in month of May-June.

Altitude:
I am still confused with its altitude. According to our altimeter(G-shock) which was well calibrated, showed up 5300metres on the pass. Old maps says 5284metres and some source says 5326metres.

Best Time:
There is no best time to visit higher regions, weather takes toll on anyday/anytime. Still its doable from Mid-May till Mid October.

Grade:
Difficult


TREK DAY 1.
Chitkul -Nagasthi(ITBP Checkpost) -Ranikanda.
A simple walk for 4 hours takes us to the beautiful Ranikanda camp site at 3700m which is situated just few metres away from Baspa river. Where we faced rain, a little headache, cold and dramatic sky.
Had the most delicious Khichdi and the soup for the lunch and Roti- Sabji-Salad for the dinner.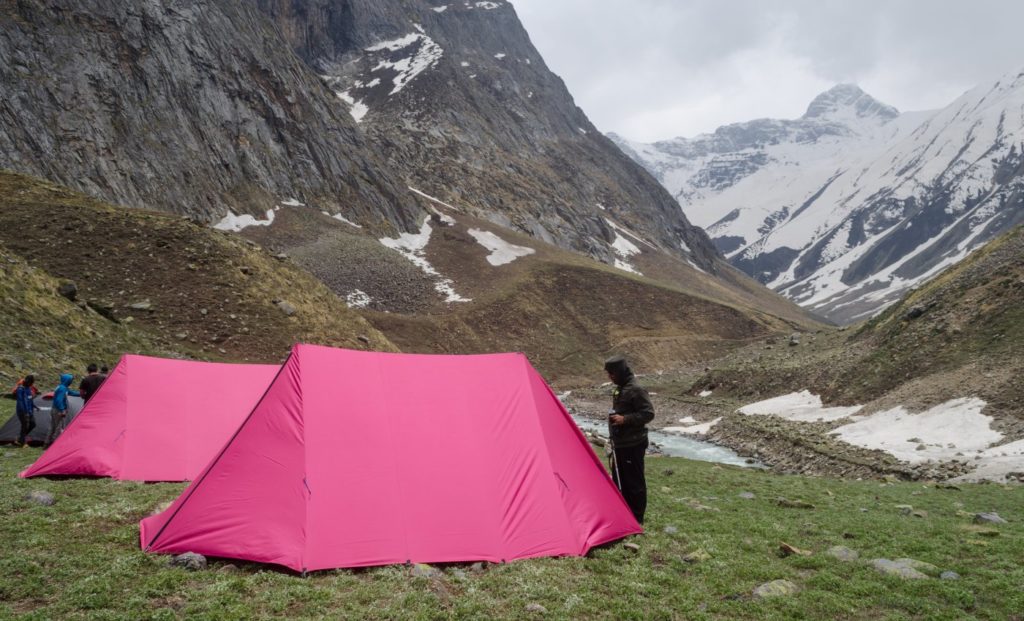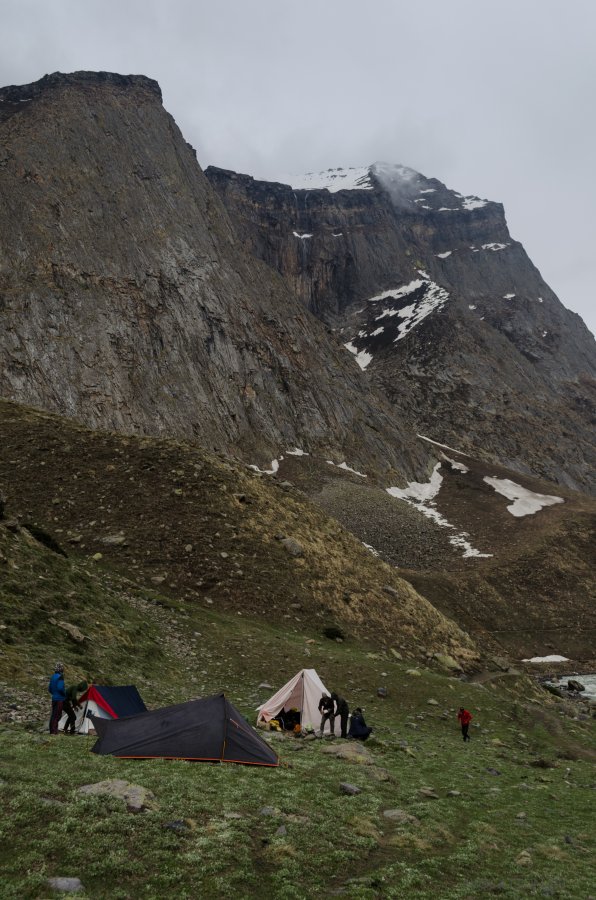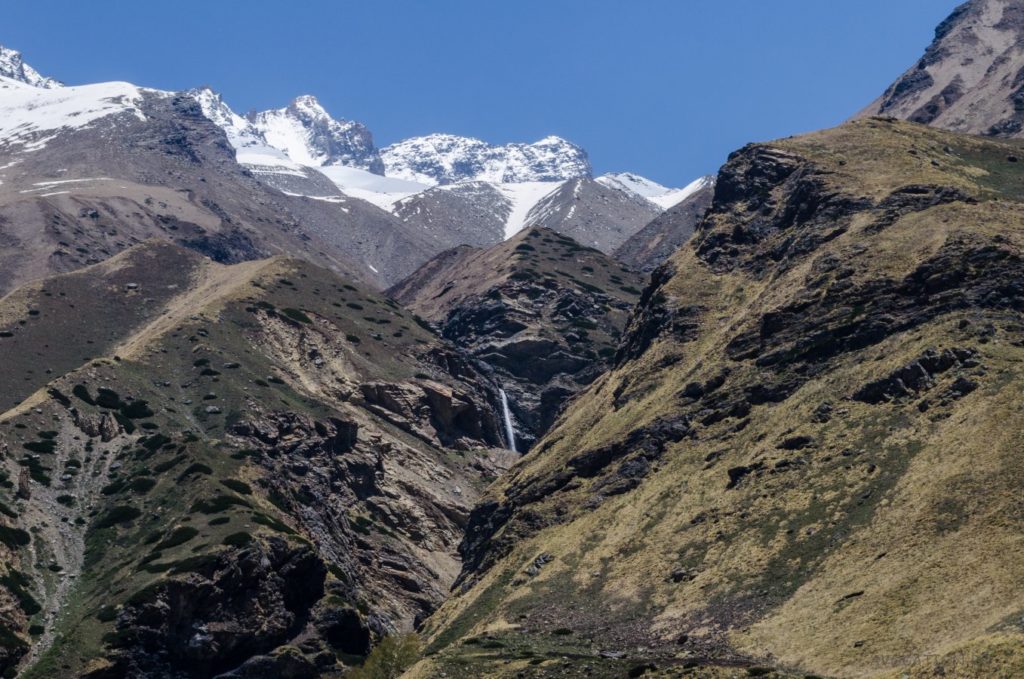 TREK DAY 2.
Ranikanda – Lal Dhang – Dumti
8am:- AP's struggle with rucksack weight and severe AMS.
It was a long hike that day going up to 4050m. Though weather was clear, we had no trust in it either. Soon AP informed us he was having a mild headache, but was okay to continue. But from previous evening, it did not get any better, even after acclimatization walk upto 500ft near by. He was walking slow along with few members and porters. He gave up just before Lal Dhang at 10:30am. His headache remained the same. VB who was walking along with him and me, took his heavy rucksack, which he was carrying and in return gave his small camera bag to AP. Meanwhile, our guide Negi saw us from edge, which was far away on Lal dhang. He knew something was wrong and waited for us to cross the tricky part. Things were getting serious at that moment.
Negi's views on AP:- Returning back to Chitkul did not made any sense as it is already at 3450m. It would take 5 -6 hours to reach from where we stood and descending further till Sangla (2800m) after that was completely out of the question. Continuing all the way till Dumti, which is at 4050m is again a threatening act to do. But Dumti had a ITBP camp. It had medical facilities. It had oxygen tanks but nothing in Chitkul. The only struggle was that tough scary walk from Lal Dhang till Dumti for 4 hours in the worst weather with poor visibility, wind, snow and drizzle along. On one side it was Baspa river which was invisible and ferociously flowing down below and on the other side falling tiny rocks and slippery slopes to negotiate. All team members were separated and were just following the broken trail.
Negi was taking care of AP and were slowly walking far behind holding his hands.
We reached Dumti at 2:30pm and APalong with Negi reached at 3:30pm. But soon, he started hallucinating!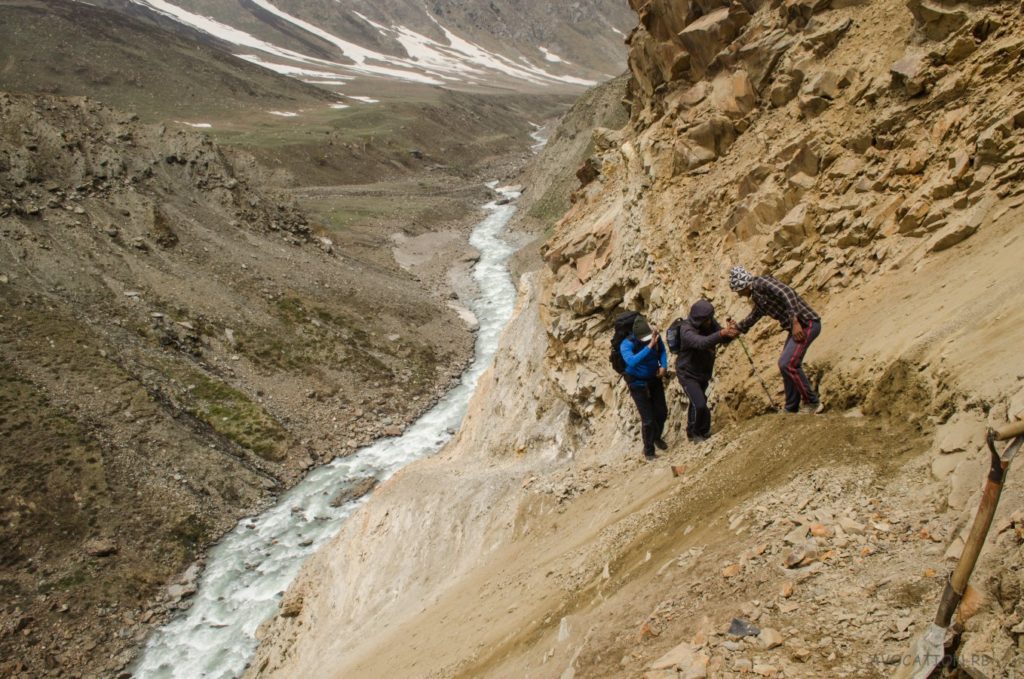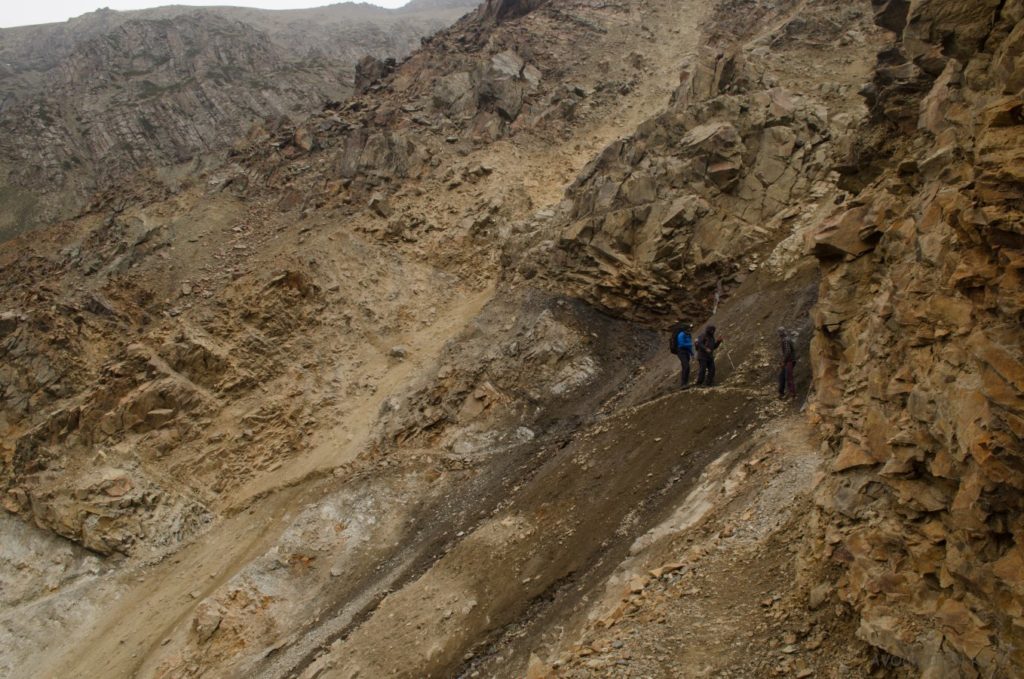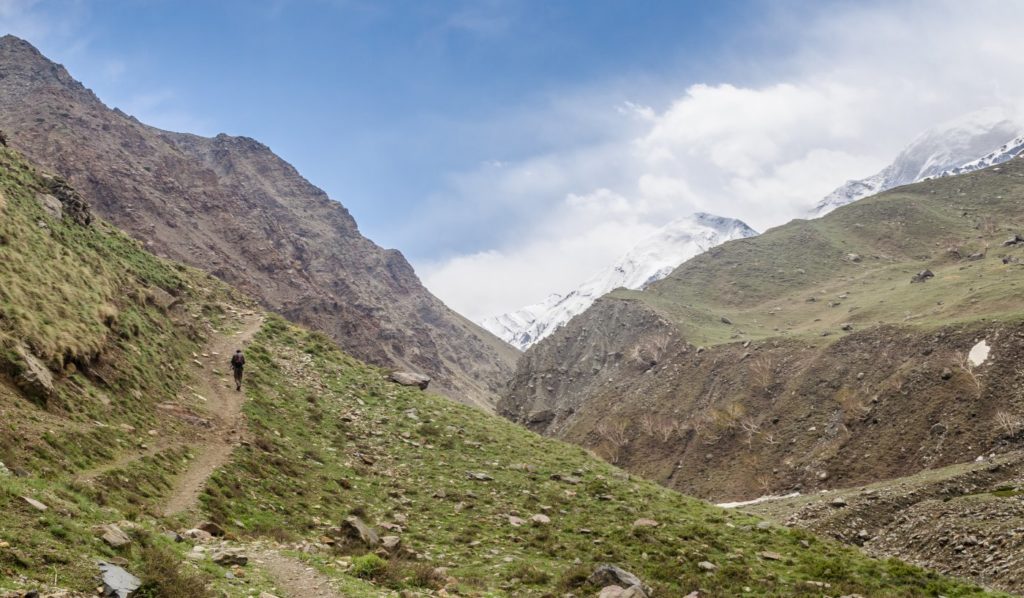 3:30pm: AP Hallucinations at Dumti
Our cook, Rathiji prepared "sheera"(they call it halwa) after a small darshan at Karu temple. We served a tiny portion to AP in the tent. It took him 20 minutes to gulp 2 serves. He did not know what he was eating, neither he was responding to anyone. His oxygen levels started deteriorating. We immediately took him to ITBP camp which had medical facilities as I have mentioned above. We made him sit in one of the bunkers for the warmth, but soon he started dozing off. Meanwhile, we literally requested the medical personnel to give him supplementary oxygen as soon as possible. He was made to lay down by holding his hands on the medical bed. We played music in the background, so that he won't sleep which would turn out to be fatal in such conditions. It took 15 minutes for him to get back to normal, which stayed temporary.
Well, when we asked him how was he feeling? He did not remembered how and what had happened. He did not remember anything, neither the "sheera" nor the supplementary oxygen. Every half an hour, he was given supplementary oxygen till 6:00pm for 5 minutes and some medicines( NOT DIAMOX).
Meanwhile, few members from our team had won cricket game against ITBP team.
AP was my tent mate. I kept on checking his oxygen levels throughout that cold night. Luckily he was OK the next morning, but had to sent back with one of the porter.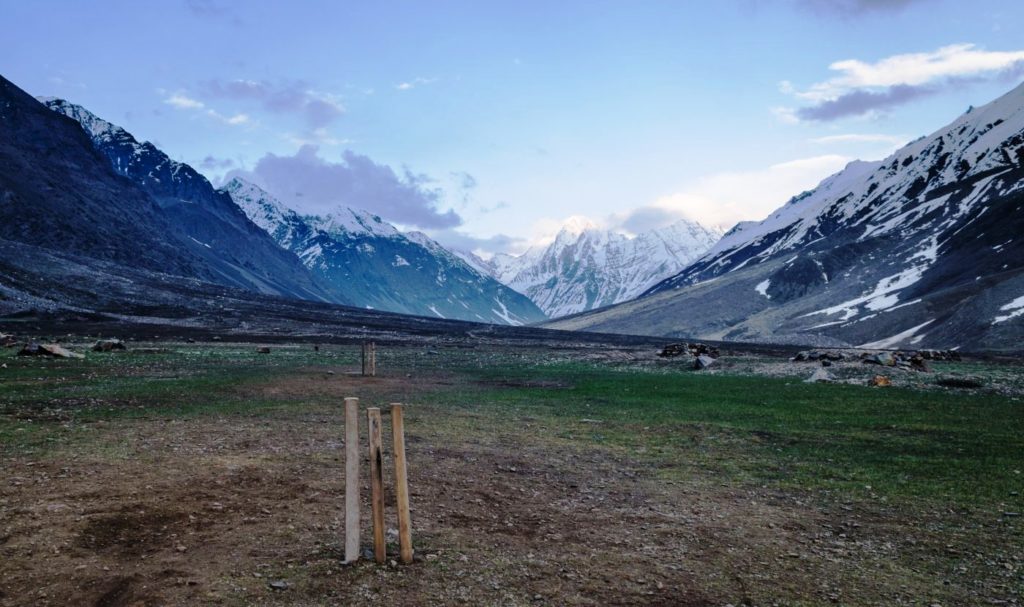 TREK DAY 3
Dumti-Nithal Thatch- Gundar
The day began with Parathas and Bhindi subzi for breakfast following with the small pooja at Karu temple. A walk by banks of River Baspa all the way till Gundar Camp at 4450m. It was an easy but long walk over rocks and slight height gain. We reached at 2:00pm. SC fell in the water while crossing it just before the camp and while rescuing her, Nishchay fell too. Quite a tough moment for both of them.
By 3:30pm, we hiked up 1000ft for acclimatization. Due to weather, things got worse again.
And it was again Parathas for lunch.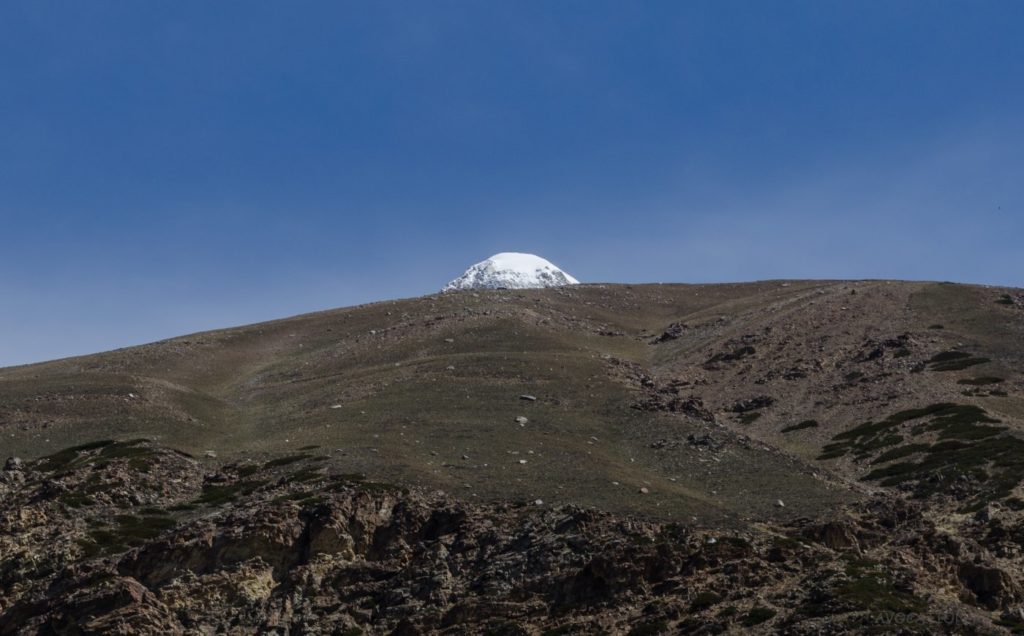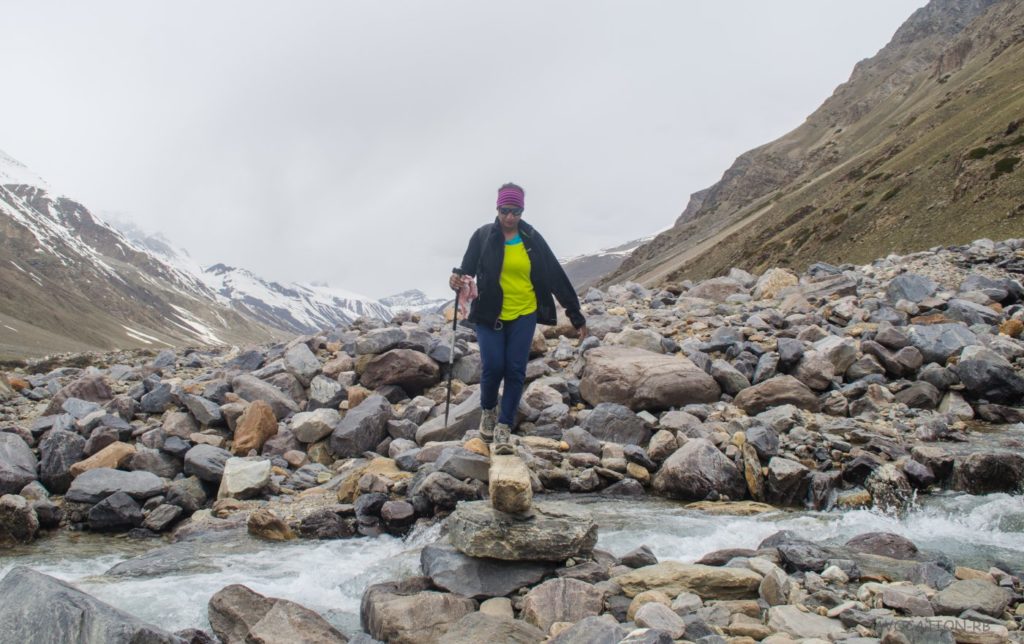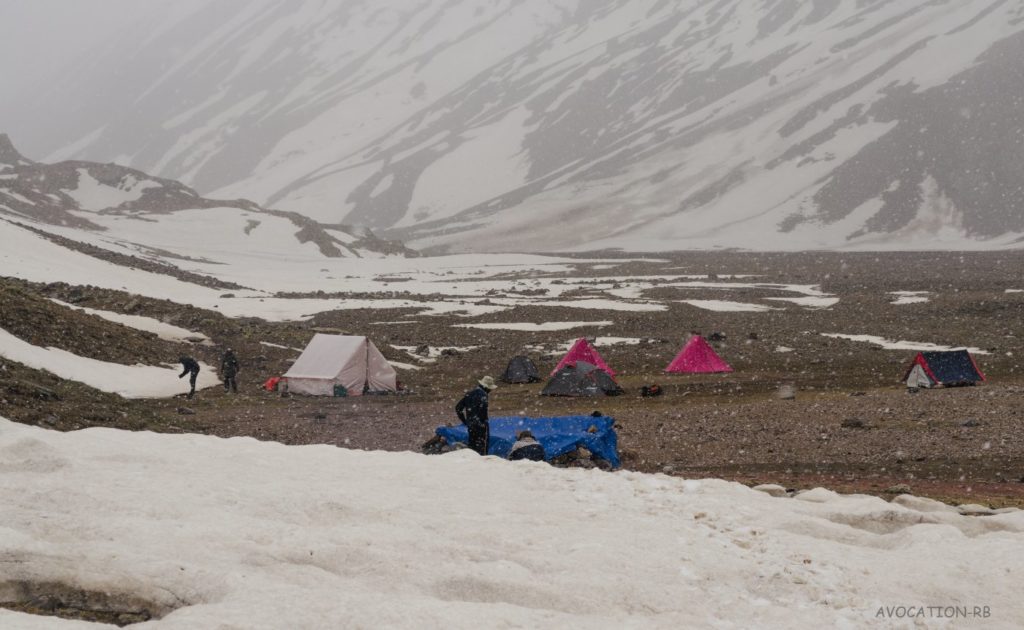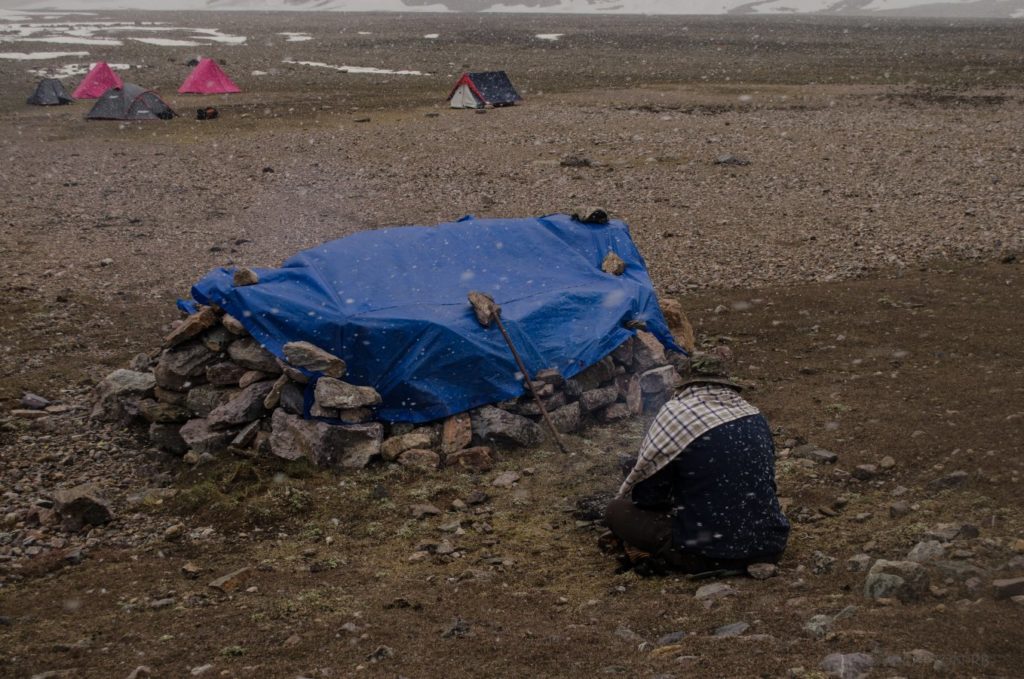 TREK DAY 4
Gundar to Immediate Camp( 2 hours before Baspa Glacier/Lamkhaga Base camp).
Probably the most beautiful morning we witnessed here. The night was just out of world with millions of stars and the bright moon and the lit on high peaks, but it was freezing at the same time. It was difficult for me to remove the camera from the bag and tripod at that time. However I would like to say that, those irregular nature calls in the middle of night has given us lot of positive opportunities to see the actual beauty through naked eyes. Words are less to describe, so does camera.
We woke up at 4am and had Chapatis for breakfast with Achar and papaya porridge. It had snowed a lot. The first step of the day was on snow. There was pug marks of some kind of animals parallel to us. First we presumed it to be snow leopard's……LOL. But it may have been wild fox's, we partially confirmed after immense discussion with each other. Few days after looking at the photographs, we thought that it would be some bird's footsteps. May be!!!
We had to cross Baspa stream that day. There was an icy and slippery layer on the stones. So balancing on top of stones and crossing would make us fall in the bone freezing water. It took us half hour to cross it. But Karan fell in the water while helping out RS and she was all fine. It was funny but frustrated situation. Snowfall increased as we move further, when Negiji finally had to stop. Because going further in that bad weather and pitching tents on glacier camp would be dangerous. It took 2 hours for the porters who were behind us. Finally at 1:00pm, we pitched our tents with all the wet boots and wet bags.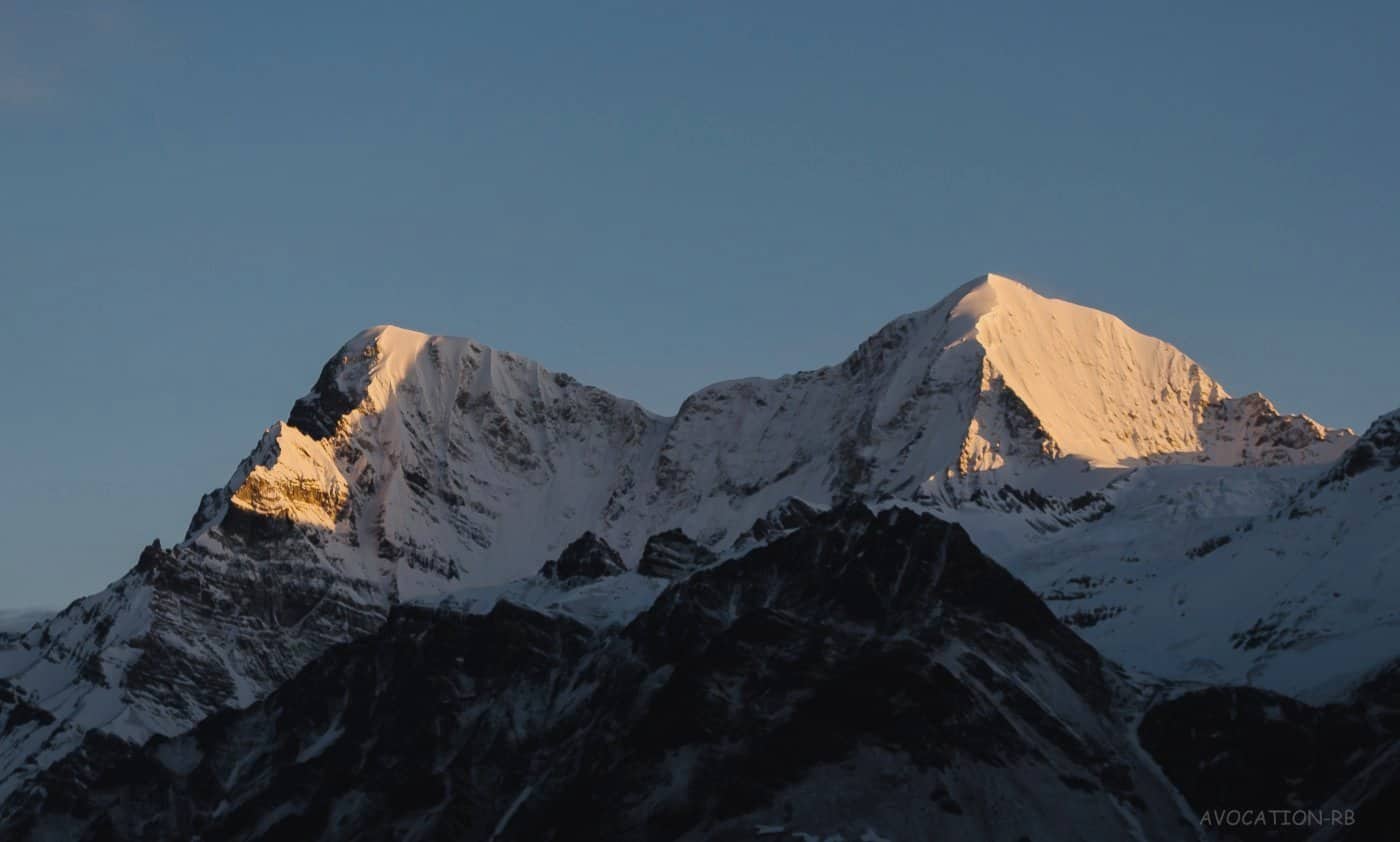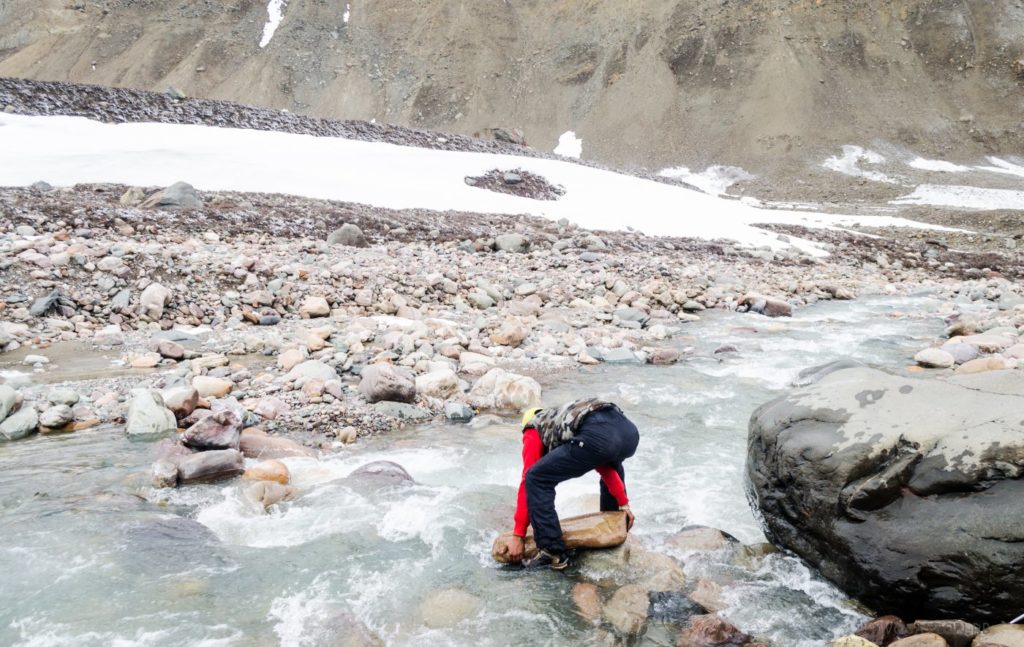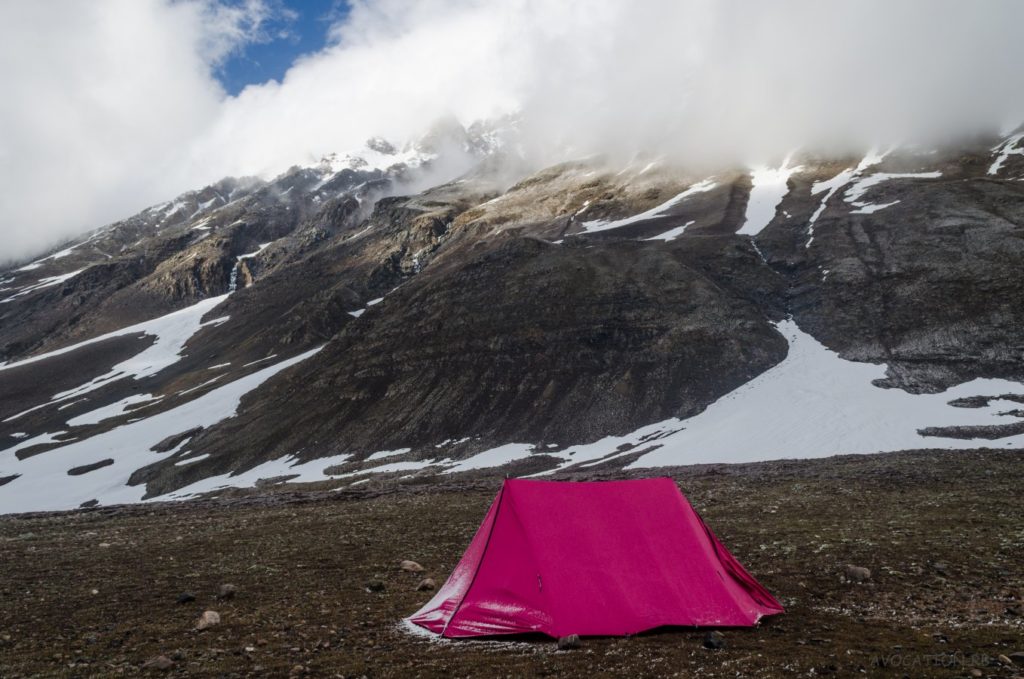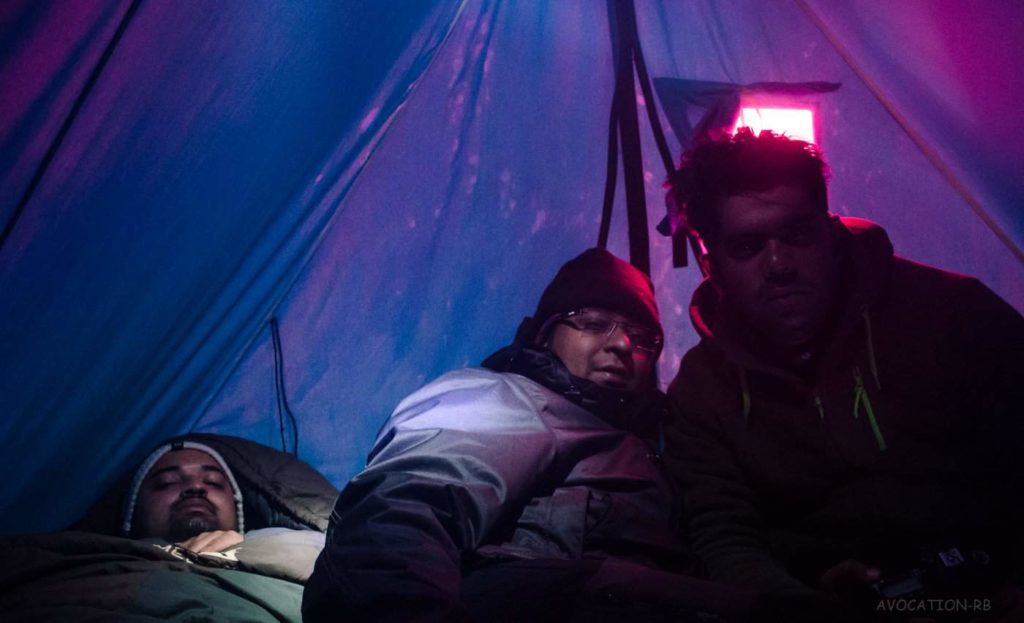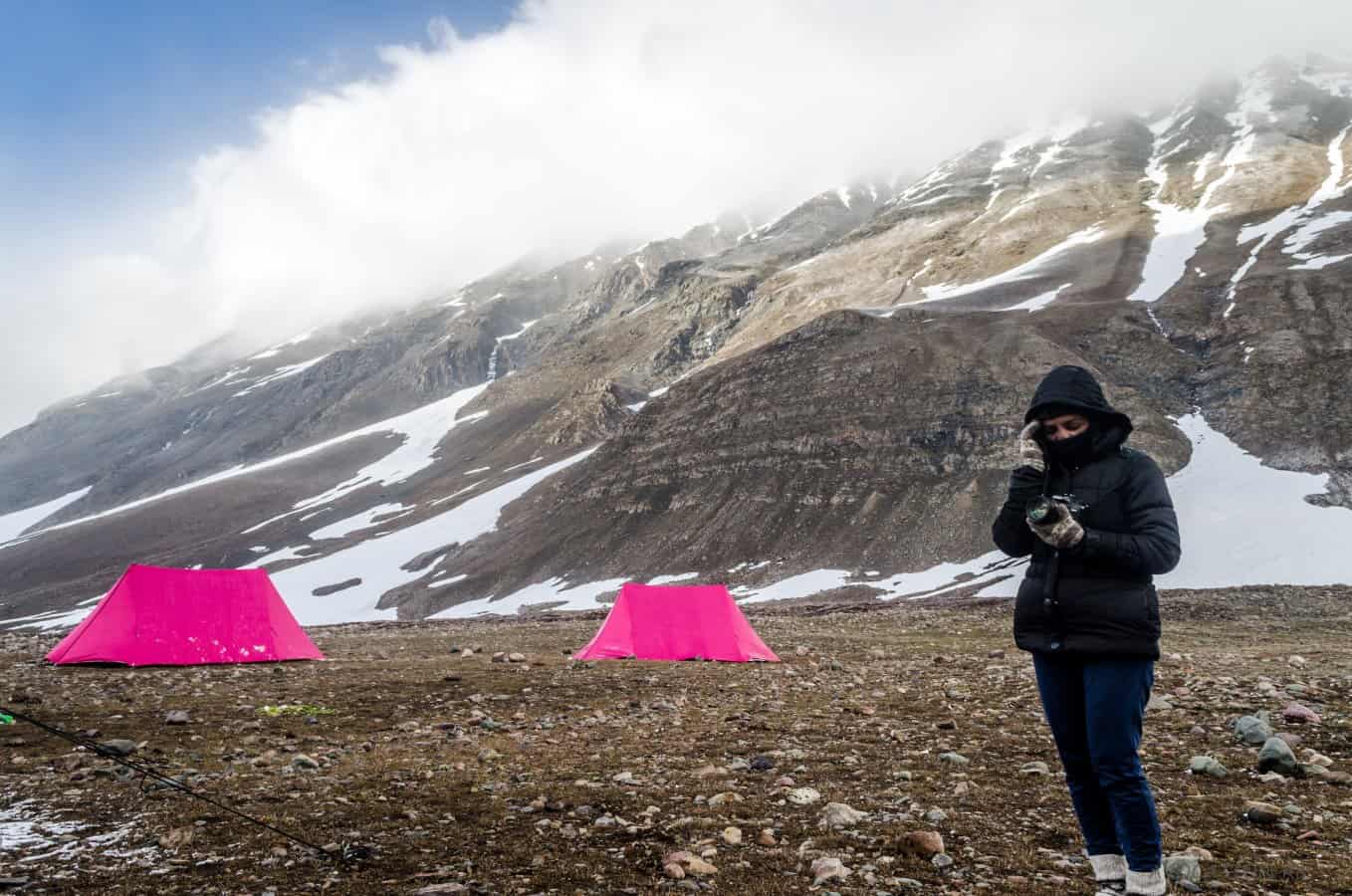 TREK DAY 5
Immediate Camp – Baspa Glacier -Lamkhaga Base camp – Lamkhaga Advance Base Camp( aka Pass ke neeche)-5100m
We were already running behind the schedule( say 5 hours time). We started to climb at 4am. It was freezing and the weather was deteriorating again. Rathiji our cook, lead the team members, whereas our guide led the team of porters. In no meantime, all porters overtook us and waited on the snowy slopes.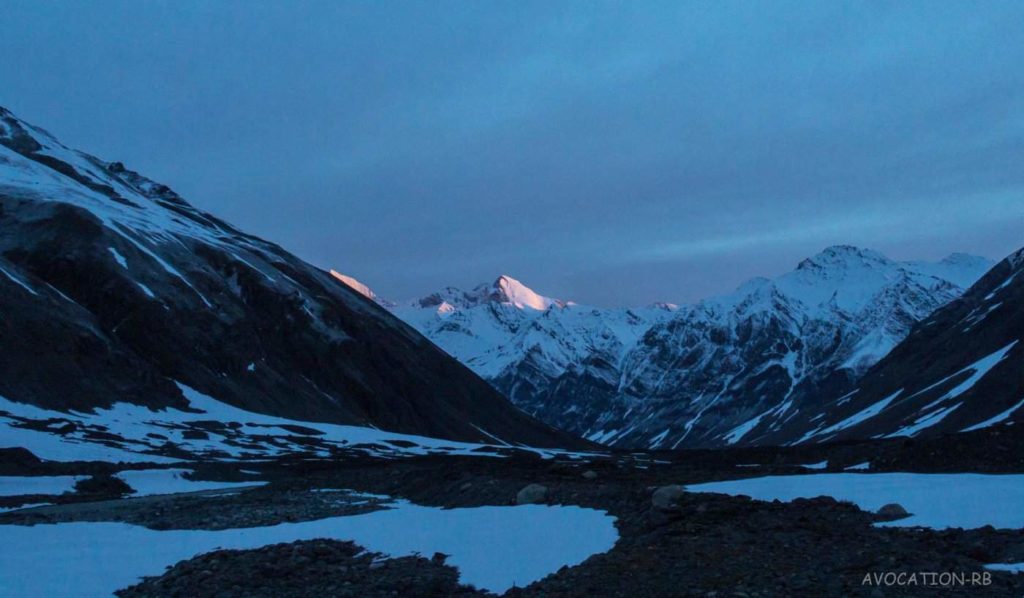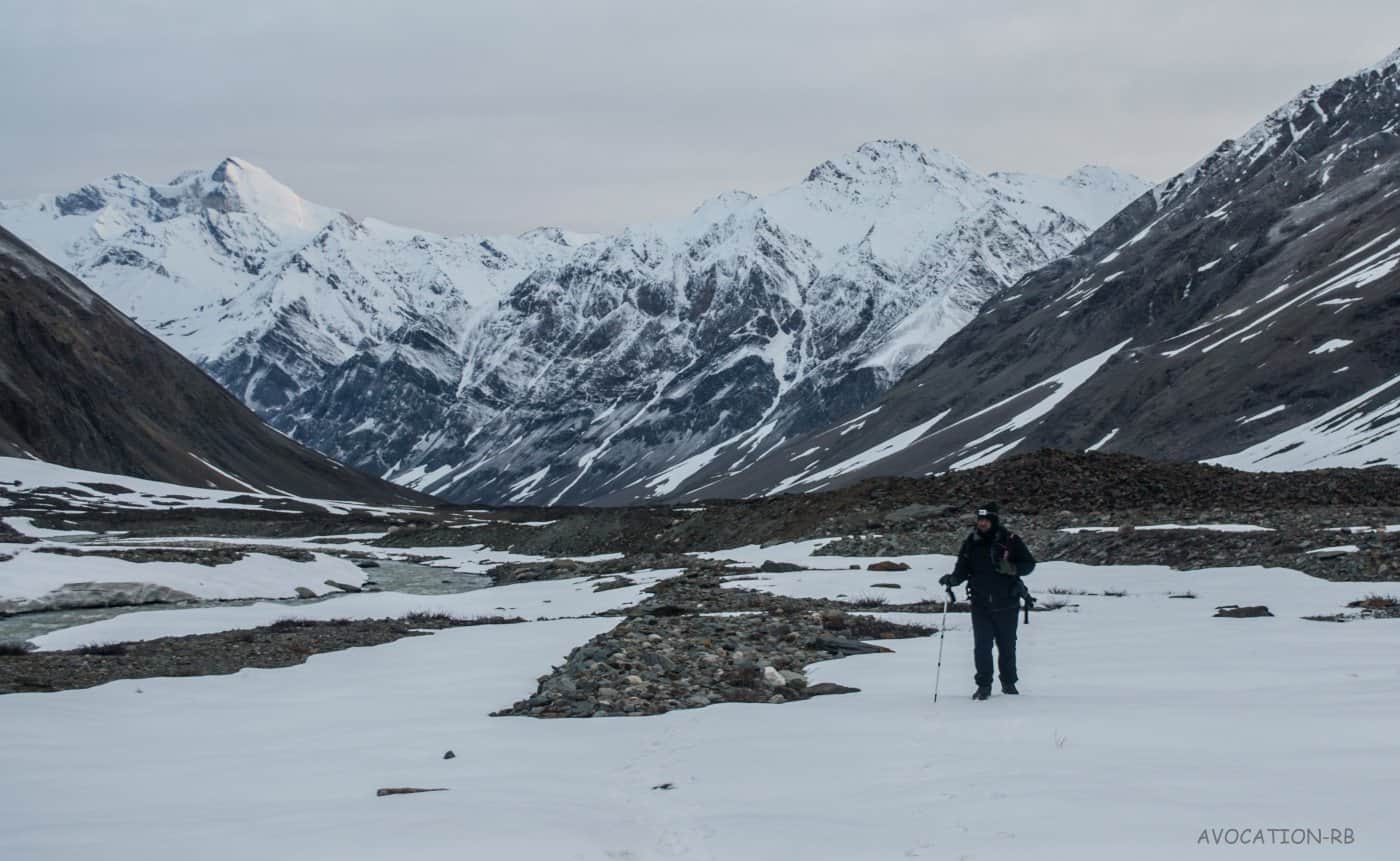 Close up of Rangrik Rang -6553m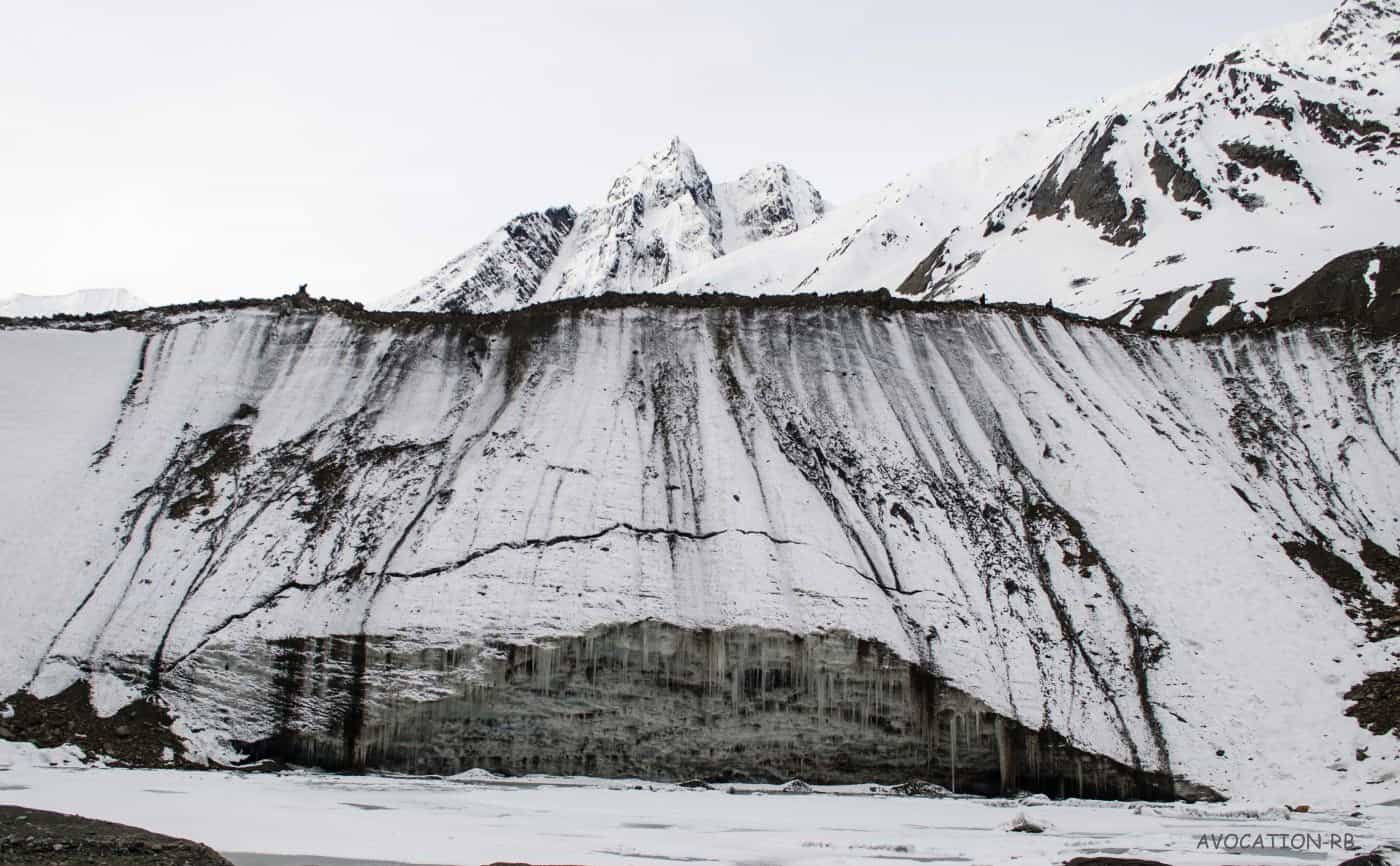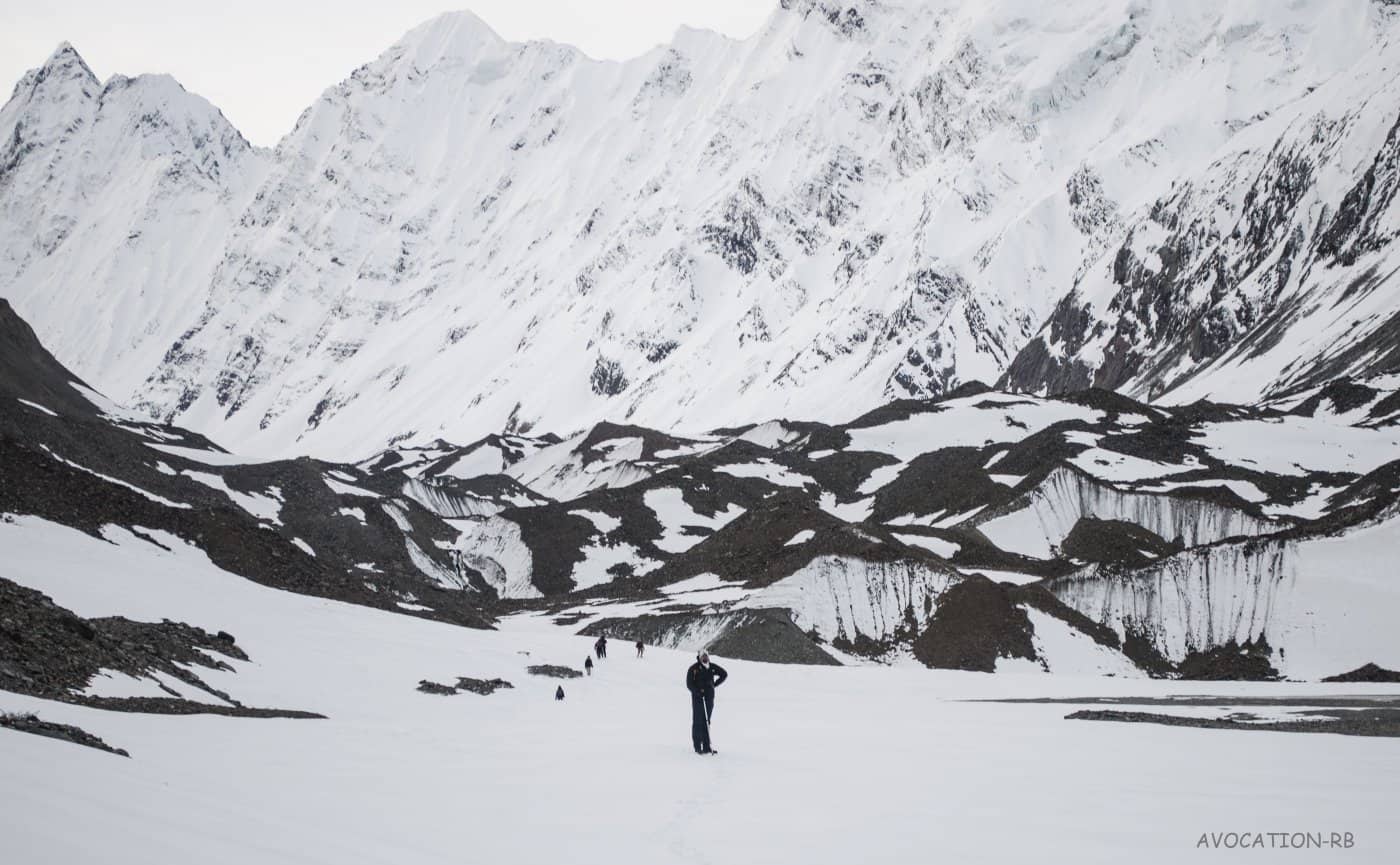 We reached Lamkhaga Base Camp at 7am for a short hungry break of dry fruits and water, as it was not easy to digest Parathas early in the morning. We took some rest and started climbing on a 50 degree incline with deep snow.
Plan of the day was to reach Advance Base camp, just below the pass which was 7 hours far from where we were standing on that snowy conditions. We managed to cover it without much headache. Few people were too fast on snow, while others were opposite of that. Finally, microspikes came into use. There were many steep patches which itself was a task to negotiate, but we managed somehow.
We reached at 2pm. It was a task to beat the soft snow of 2ft, so that our tent could easily be pitched on hard snow. That day, one porter suffered from Hypothermia and he went mute. He was shifted to kitchen tent as soon as the tent was ready and was made to rest near cooking stove for the warmth. We gave him warmee self heating pouch. He felt okay later after gulping hot soup and hot water. So white-out conditions, freezing wind, Porter's health, Highest Camp at 5100m, wet sleeping bags, frozen tents, snow melted "yuckk" water, etc. made it totally worth.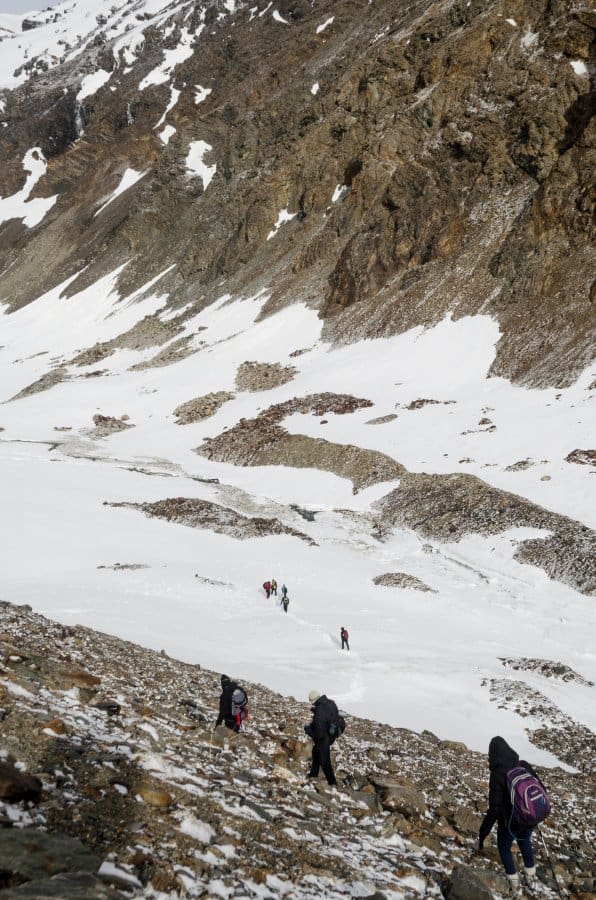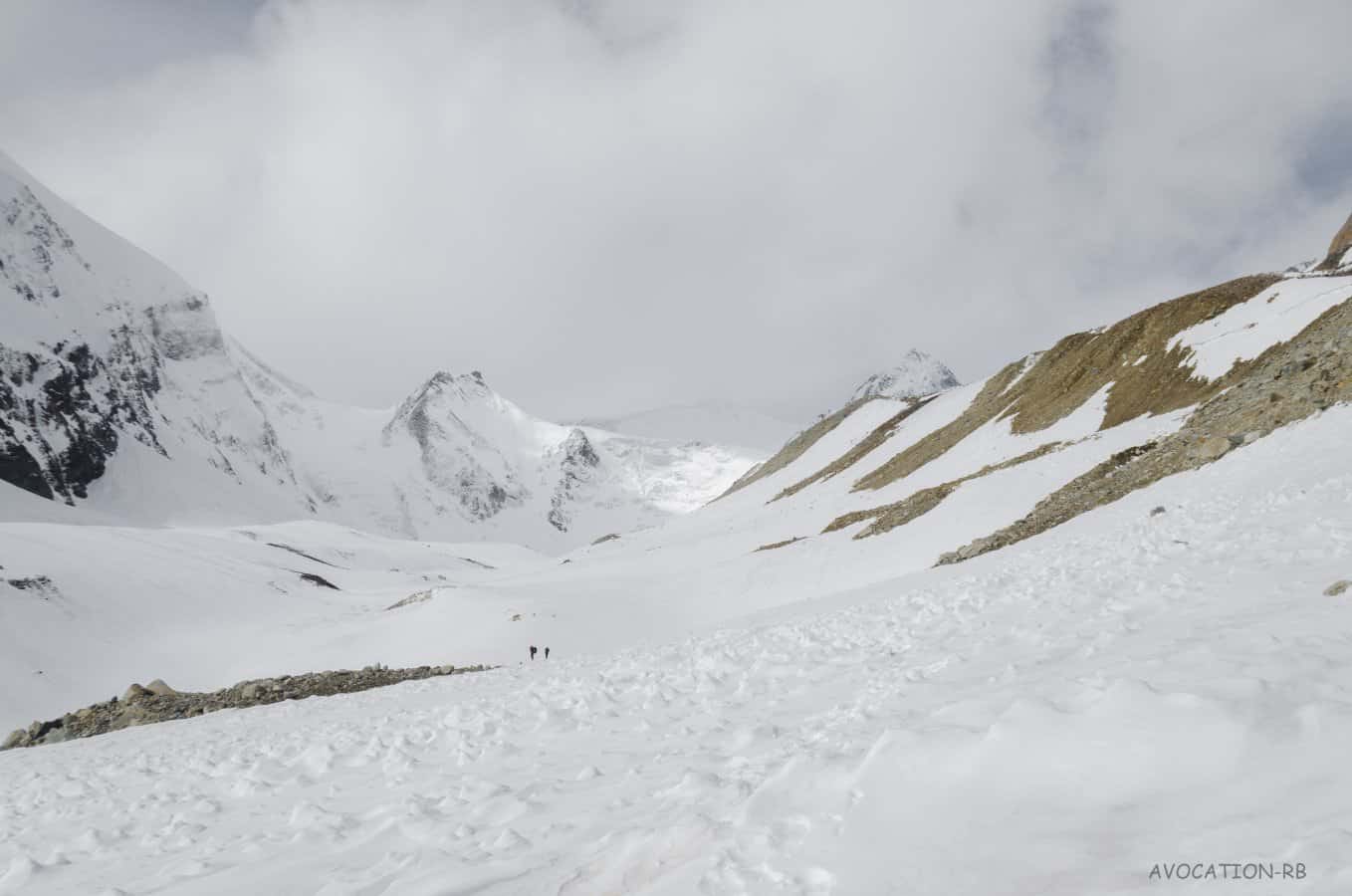 TREK DAY – 6 (LAMKHAGA PASS)
Plan : Advance Base camp to Lamkhaga Pass to Lamkhaga base camp( Harsil side)
What we did? : Advance Base camp to Lamkhaga Pass to Lamkhaga base camp(Harsil side) to Kyarkoti
When we woke up at 6 in the morning, it was all white-out outside. Soon, we started discussing on to pass the cross or not. After lot of arguments, we planned to go ahead. Waiting back did not made any sense. Descending to Chitkul was against our wishes. It was just the matter of 3 hours of climb to the pass and it was descend all the way down to Kyarkoti – Gangnani – Harsil. If anything worse happens within these 3 hours, nobody had an idea to escape it, except our guide Negi. He was confident about it and he lead us in a Pro way. We stood at the top at 9:00am on 3rd June.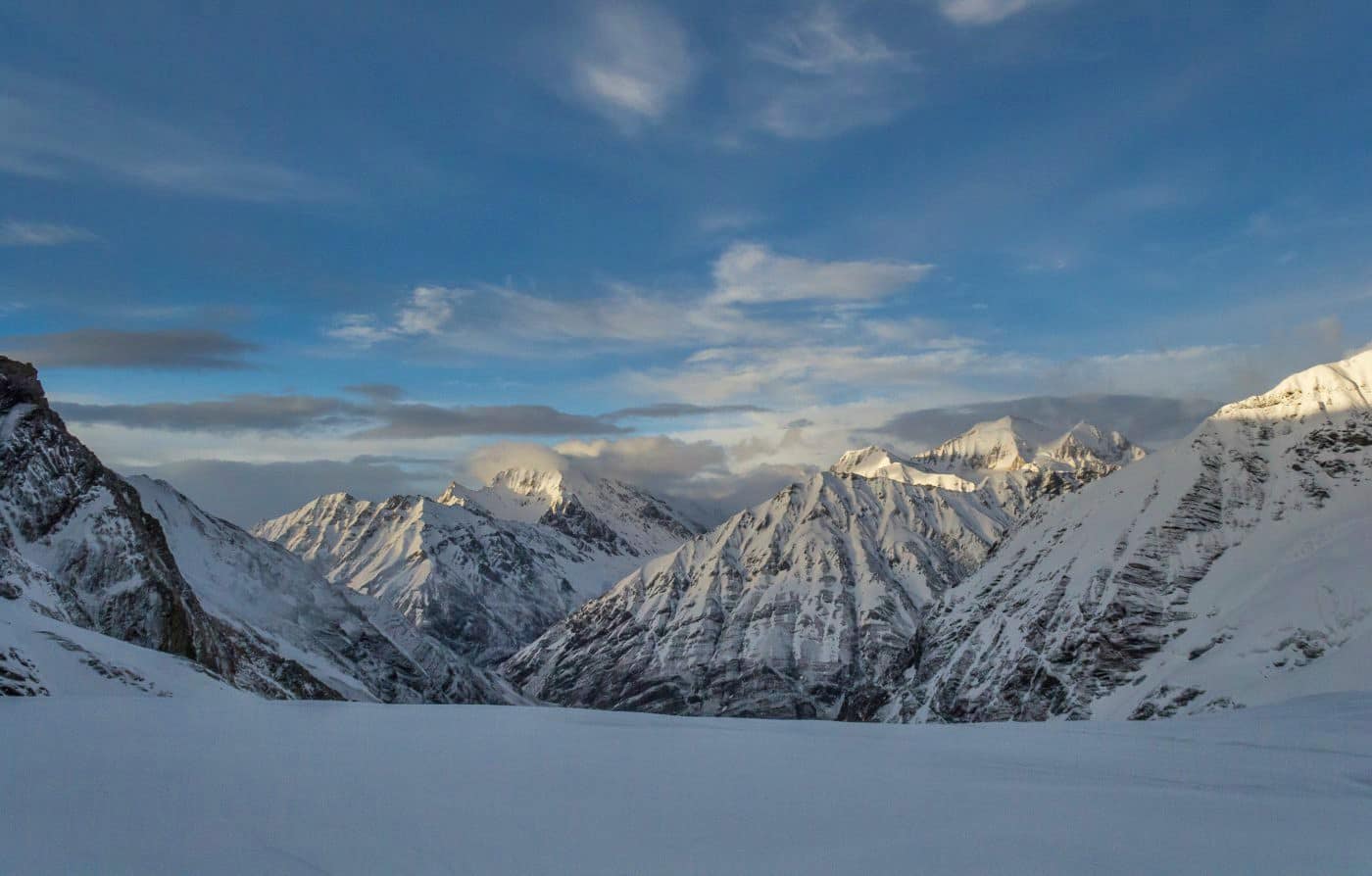 Looking towards HP unnamed peaks as seen from Abc at 5120m at 530am.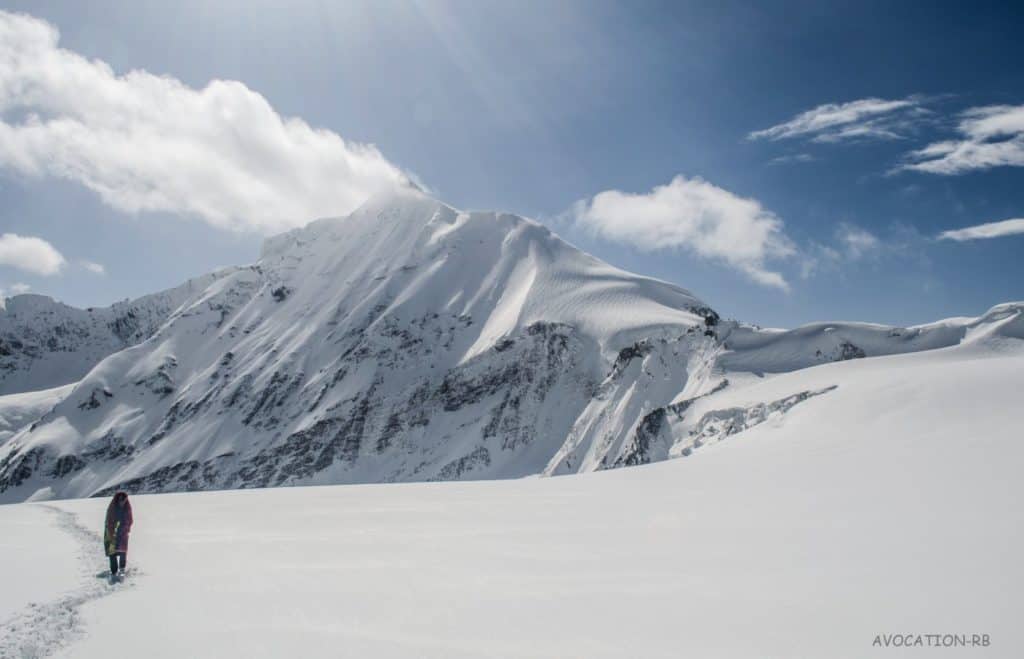 Negi ji had made a zigzag route to the top, due to soft snow and the light was bright. In a meanwhile, huge layer of ice like a mini avalanche came on our way and took Aditya down few metres on the slope. Luckily he arrested himself on the gentle slopes and began climbing much faster. It was horrifying scene when it happened. Somehow we all reached at 9am on the top.
The pass is located at one of the greatest water source region which divides two great rivers, where one flows into Arabian sea and other in Bay of Bengal.
All we could see is tears of joy in each and every members. It started snowing heavily from Garhwal side and it was bright in Kinnaur side. Realising, who was the culprit behind bad weather, we started our deadly descend soon.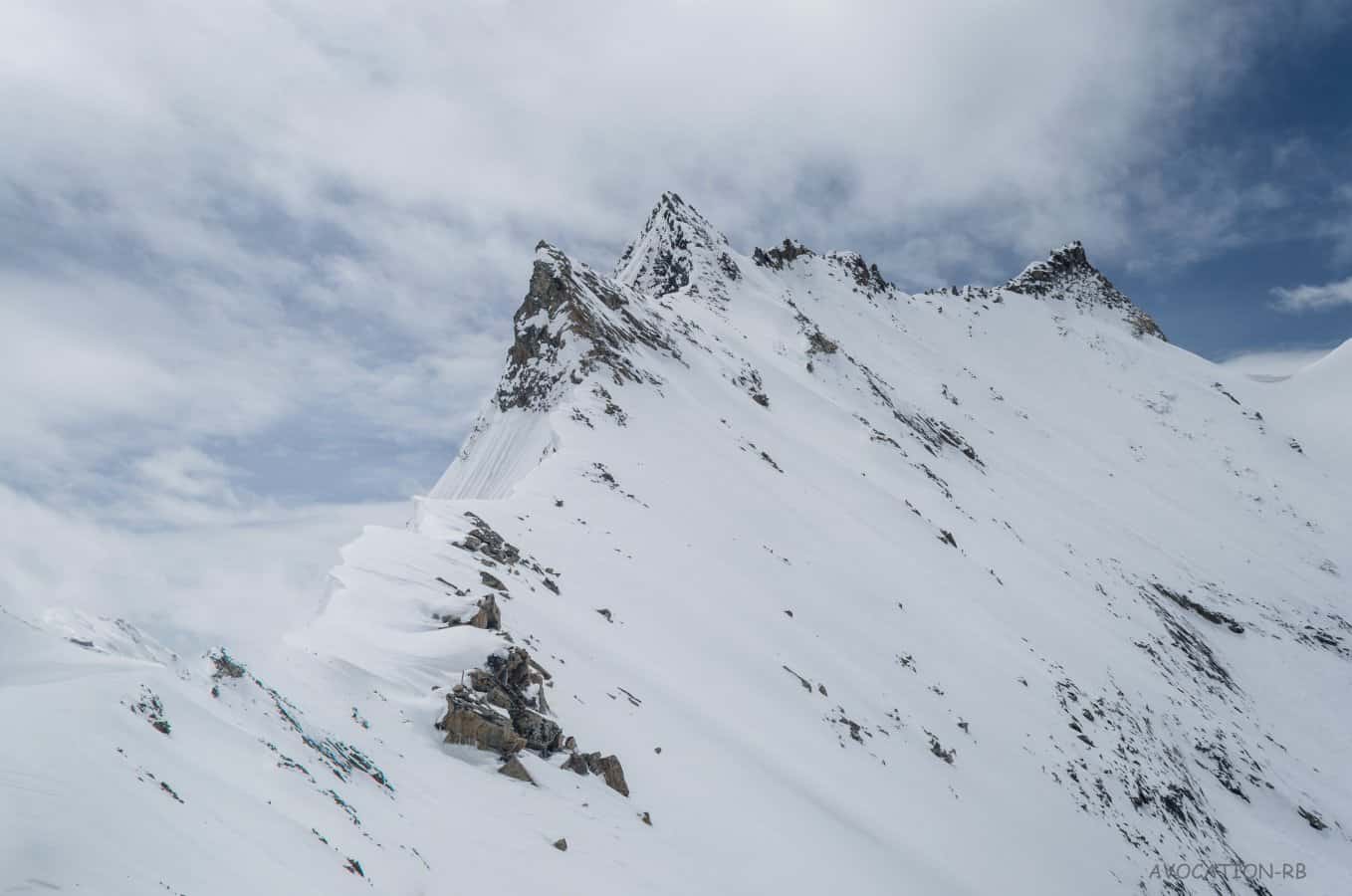 The glissading was fun and risky too. Few members had many rolls, with the bags falling on one side and trekking poles to the others. The weather deteriorated and it was white out. This time, it did not stopped for the next 8 hours of daunting descent. There was a huge gap of distance among members, as few of us was climbing down slowly with INFINITE no. of falls and breaking trekking sticks. The plan was descend until snowline. We reached Upper Kyarkoti, passing through Sukha Tal at 5:30pm and threw our bags aside our tents.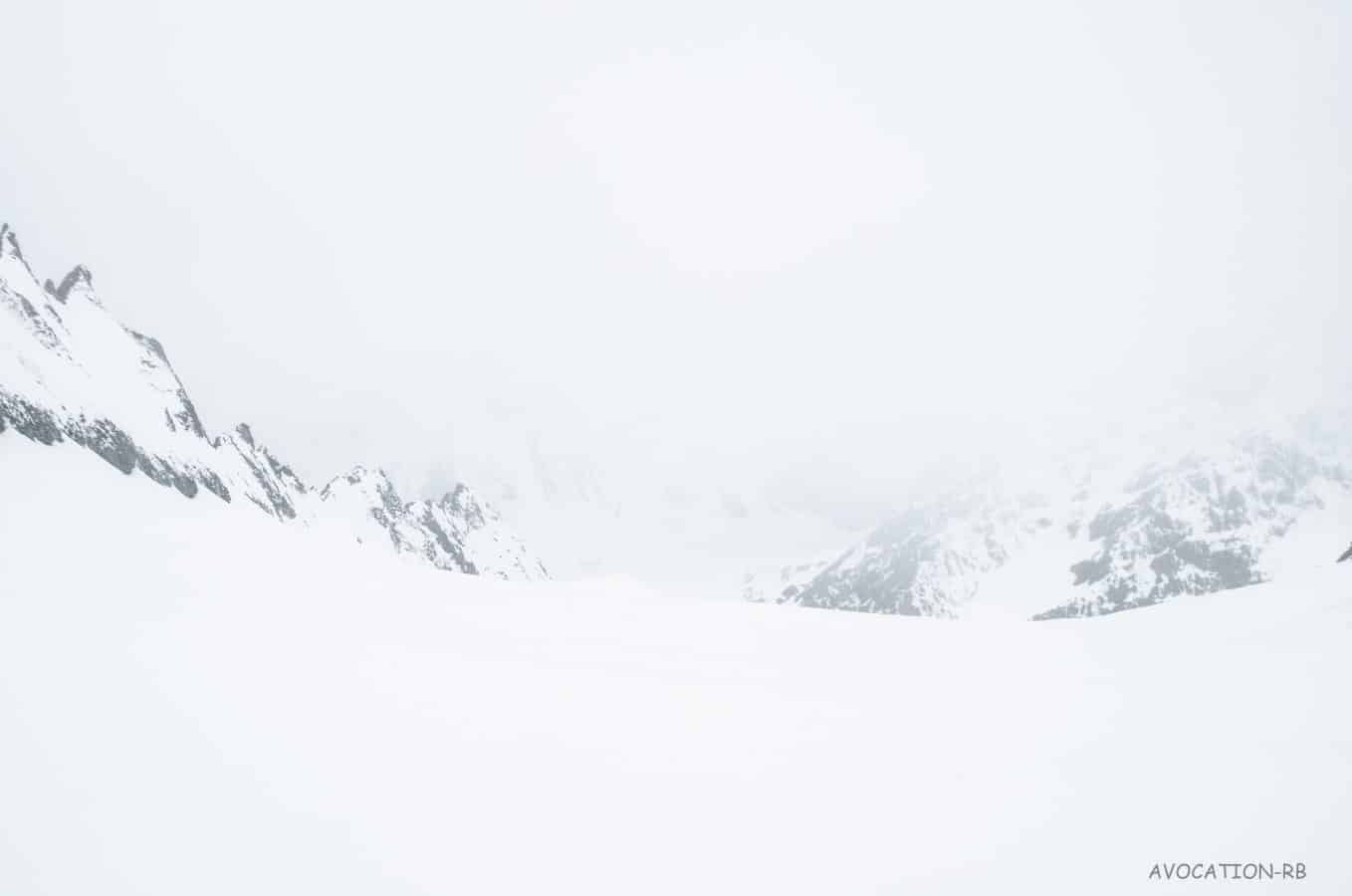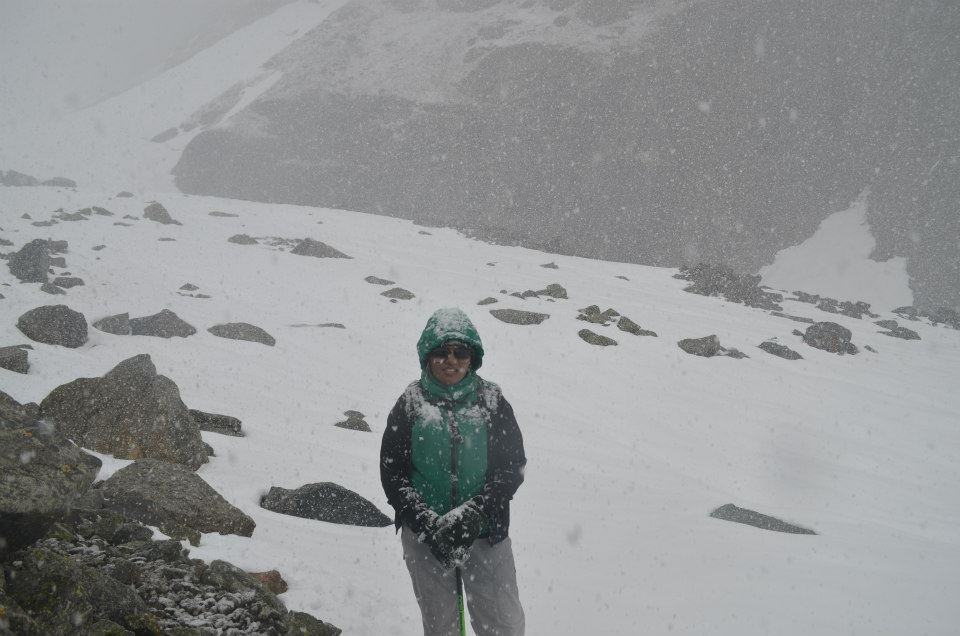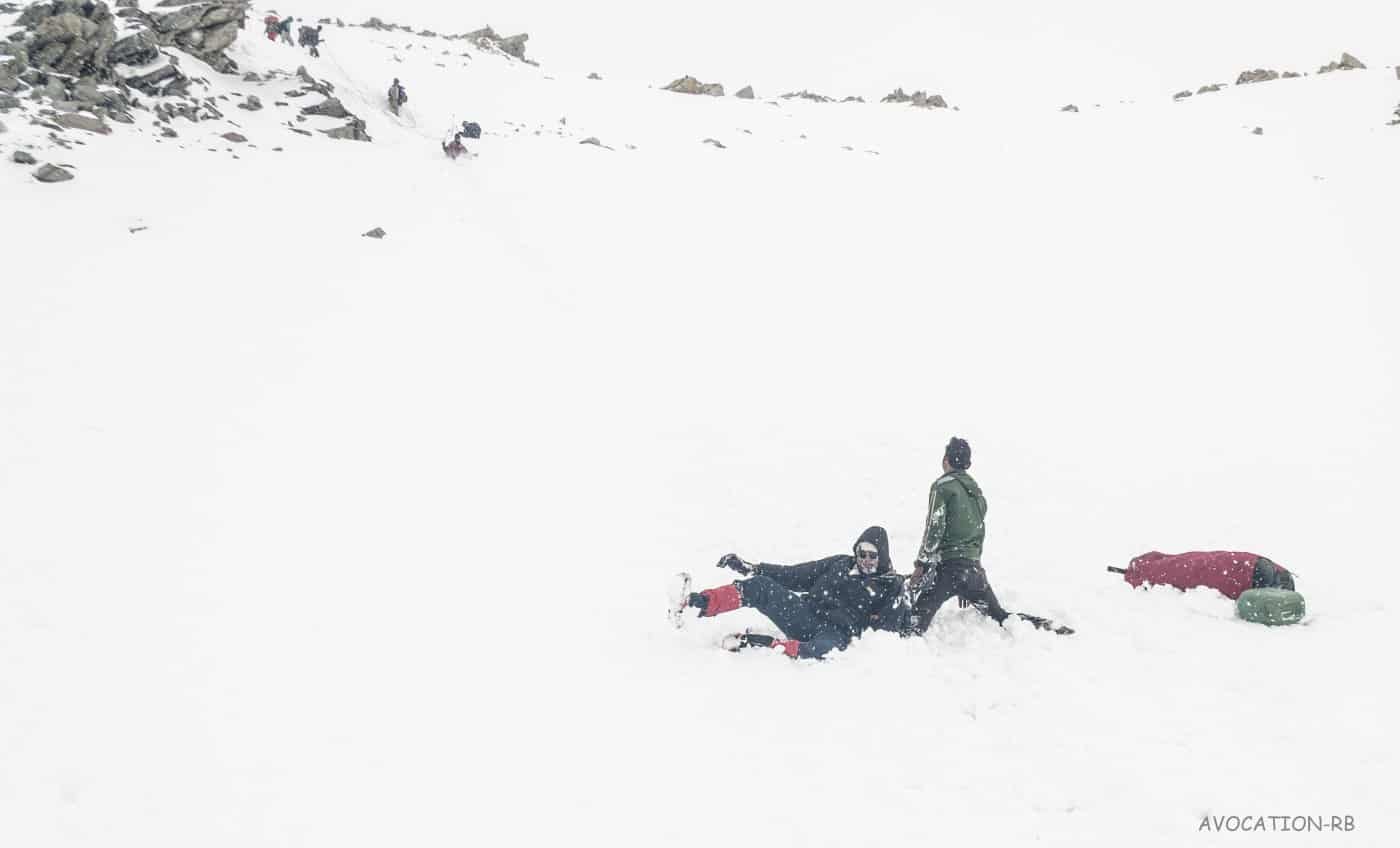 That evening, our porters went to hunt some of the juniper bushes/woods for bonfire. They excelled in getting a large bunch of wet junipers and some wet trunk of the unknown tree which was lying down on high slopes. There was an excitement within the team on the accomplishment of the trek. We sipped many teas that evening, as most of the things were wet and ferocious bonfire by the side.
I was the last one to sleep after taking few night shots of the heaven, Kyarkoti. In fact all the nights at every camps have been beautiful for us, but this place beats all. As soon as I entered my sleeping and locked the chains of the tent, there was a scratching sounds outside the tent. As if, some one/thing is scratching with hands on the outer layer of the tent. Initially I thought someone was doing mischief among us, but everyone had slept by that time. I woke up and I switched on my tent light, no sounds! Again, I did not bothered to wake up my tent mates as they all were snoring too loud. The sound of scratching continued for 2-3 hours that night and that was my last sleepless night of the entire journey.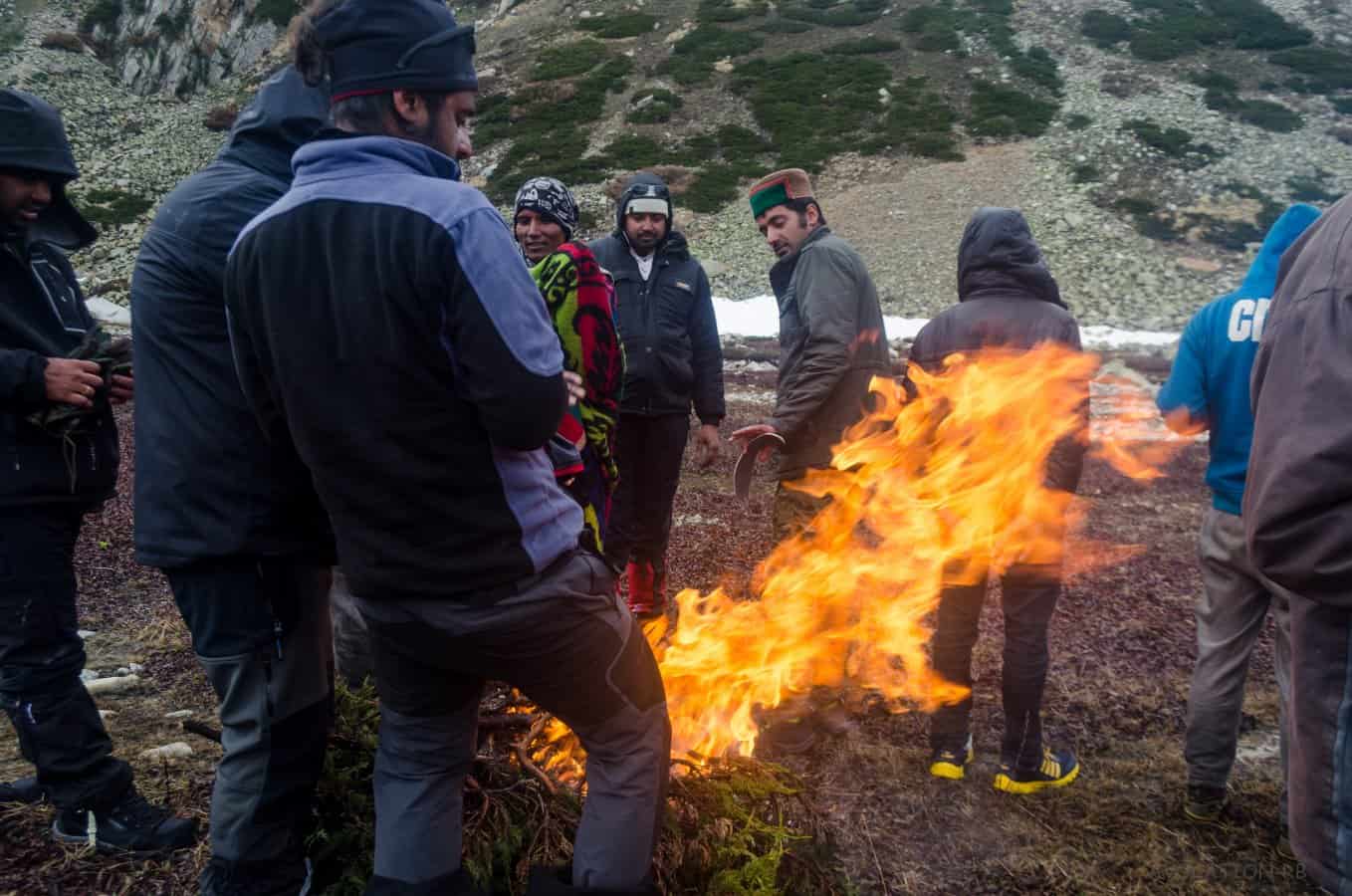 (4 votes, average: 5.00 out of 5)

Loading...