Auden's Col is a pass that connects Rudugaira Valley (Gangotri) to the Bhilangna Valley (Kedarnath). Our itinerary & route of Auden's Col trek includes 3 passes and the infamous Khatling glacier. The Col (saddle-shaped pass joining two surrounding peaks) connects Jogin I (6465 m) and Gangotri III peak (6580 m).
Auden's Col Trek
The Col is about 5400 meters high. It connects two glaciers: the Khatling Glacier and the Jogin-I glacier.
Auden's Col trek begins from Gangotri. From there, one can follow the Auden's Col and Khatling Glacier route to reach Kedarnath. The name of the Auden's Col comes from J. B. Auden (brother of Anglo-American poet W.H. Auden), who first crossed it in 1939-40.
Auden's Col Expedition 2022 Rundown
| | |
| --- | --- |
| Region | Gangotri Garhwal Himalayas |
| Duration | 12 trek days |
| Difficulty level | Strenuously long tough terrain |
| Max. Altitude | 5400 m (Auden's Col) |
| Best time | Between June to September |
| Trail length | About 150 km |
| Highlights | Kedartal lake, Kedar Ganga valley, Grevasse-ridden Khatling glacier, Patangani Dhar, Mayali Pass, Thalay Sagar, Brighupant, Jogin peaks and Kedar dome peak, Vasuki Tal and Masartal lake, Gangotri town and Kedarnath. |
| Departure Date | June 05, 2022 (from Gangotri) |
Auden's Col trek summary
Auden's Col: The 3 Pass Trek Expedition In Uttarakhand
The summit is at 5490m altitude and it connects the ridge coming from Gangotri III (6580m) peak on the north-west and the ridge coming from Jogin I (6465m) on the east and also binds a glacier coming from Jogin I on the north side of Rudugaira valley, and infamous Khatling glacier on the south side of Bhilangna valley.
You can read more about the 3-Pass Trek on the blog written by Neelima Vallangi. Anshul Chourasia and Sridevi Nair have also written a blog about Auden's Col trek of June 2017 and Auden's Col Trek expedition of 2018.
Rudraganga stream or Rudragairu (gairu means deep) or Rudugaira Gad (a small stream is English interpretation of Gad) drains Rudugaira glacier and eventually flows into the Bhagirathi river near Gangotri, and Bhilangna river originates from Khatling glacier and meets the Bhagirathi near Old Tehri in Garhwal region.
Auden's Col Trek Permit
A permit is mandated by the local administration of Uttarkashi for all trek and adventure operators. Entry into Gangotri National Park is allowed only if one has a copy of the entry permit authorized by the office of the director of Gangotri National Park at Uttarkashi. Our Auden's Col trek cost includes charges incurred to obtain the permits.
Auden's Col Trek Route
First, we would take a side trip to visit Kedartal at a height of 4,780 meters. Then we would climb atop Patangani Dhar (4,900 meters) to get down into Rudragaira valley which provides access to Auden's Col. Auden's Col, at 5490 meters above the sea level, is nestled between Gangotri and Jogin mountain ranges.
We can manage to cross Auden's Col and Khatling glacier in a single stretch. Thereafter, we'll descend to Chowki campsite the next day.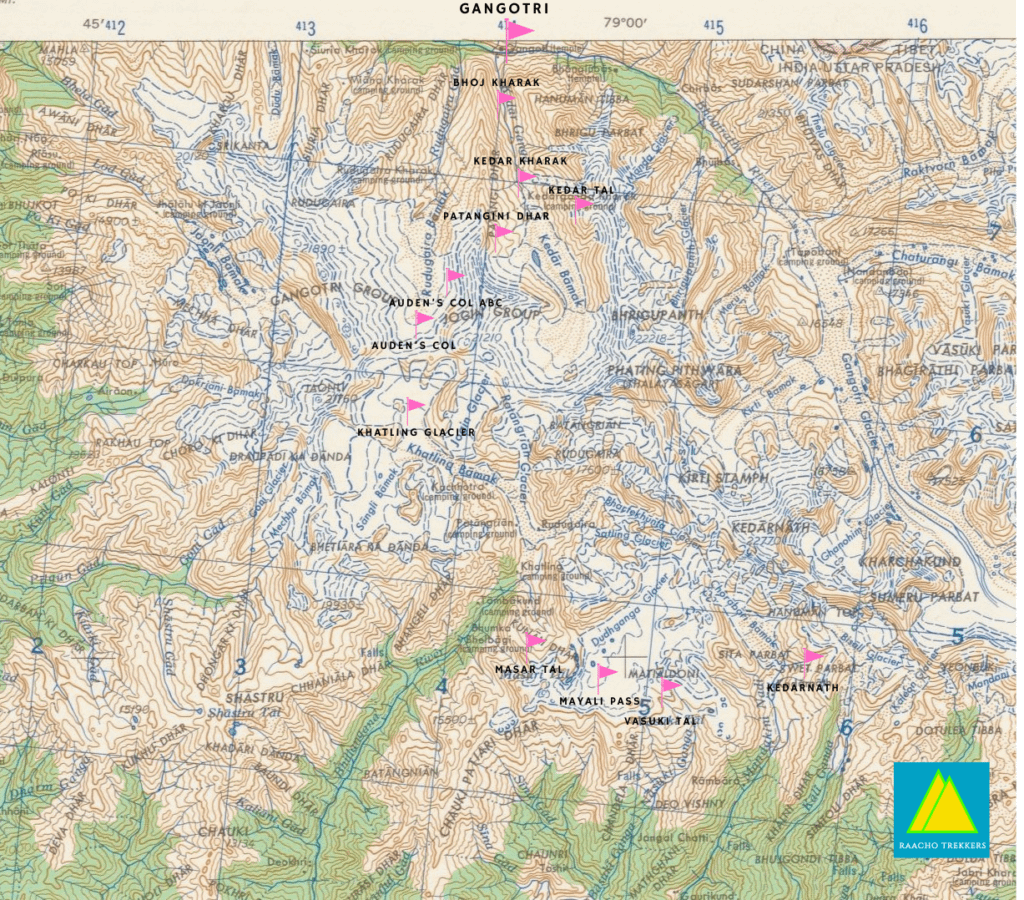 From Chowki we would take a left turn upwards and reach Mayali Pass (5,050 meters) in the next two days, and then camp next to Vasuki Tal. From there we would descend to the Kedarnath shrine and get back into civilization.
What is Col?
The word 'Col' is a geographical term for a saddle-like depression in a ridge between two peaks.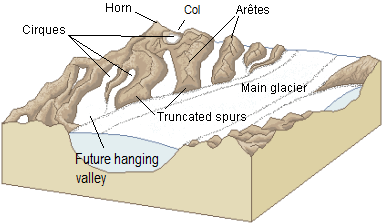 Auden's Col lies between Gangotri III (6537 m) & Jogin I (6465 m) and the crossing is one of the finest high altitude treks in the Indian Himalayas.
How Much Does Auden's Col Trek Cost?
Auden's Col trek price starts from 55,000 INR. The final price will be determined by factors such as group size, pick-up location (Dehradun or Uttarkashi), departure date (pre-monsoon in June or post-monsoon in September), and add-ons such as backpack offloading, gear (crampons and gaiters), hotel accommodations before and after the trek, and drop-off location (Rishikesh or Haridwar). Drop an email to avail group & early birds offer.
Auden's Col trek cost inclusion
All arrangements for overnight stays during the trip.
Camping, Climbing, and Communication (two-way radios) gear.
All food expenses.
Food will usually consist of morning breakfast, lunch, evening high tea, and dinner.
All food will be vegetarian.
Trained & certified guides who have long experience of trekking & climbing high altitude Himalayan terrains & in handling emergency situations.
Local guides and support staff with in-depth knowledge about the terrain, trekking trails & routes.
One luggage per person will be carried & transported by the porters.
Inner line permits (ILP) and other permit arrangements en route will be arranged by the operator.
All stays and lodging on a twin sharing basis shall be provided.
Garhwal Himalayas
The valleys of Garhwal and Kumaon border China and Nepal and are the most famous for their holy shrines including Gangotri — the source of India's most sacred River Ganga.
Positioned at the very center of the great Himalayan chain, Garhwal and Kumaon contain a host of 7,000-meter peaks such as Nanda Devi, Kamet, and Trishul, and sub-7,000-meter expedition peaks such as the stunning Shivling, as well as over 250 peaks above 5500 meters.
The Garhwal Himalayas are characterized by unsurpassed mountain scenery with soaring ridges, deep valleys, and huge glaciers and this trek takes us right into the heart of the Garhwal Himalayas.
Auden's Col Trek Itinerary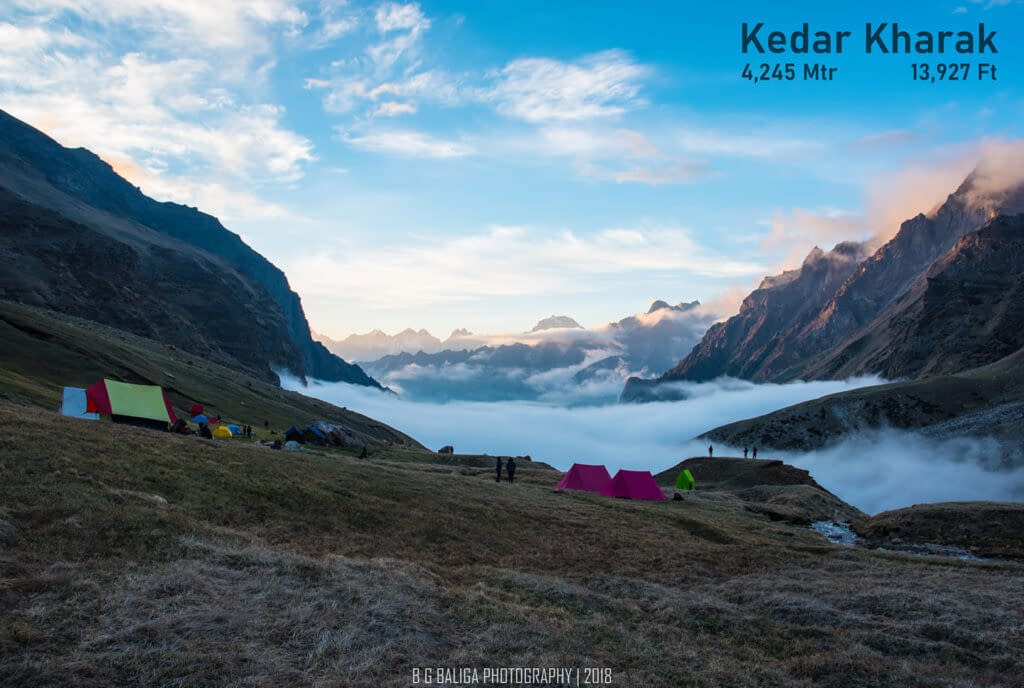 Kedar Kharak is one of the most beautiful campsites of the 3 Passes Trek i.e. Patangini Dhar, Auden's Col & Mayali Pass.
This camp-site serves as a basecamp site for two magnificent treks of Gangotri National Park:
Kedartal (4614 meters) trek.
Patangini Dhar (5085 meters) trek.
With magnificent views of Brigupanth Peak, Thalay Sagar peak and other surrounding peaks at Gangotri National Park, this campsite will become a memorable lifetime experience for any adventure seekers for sure!
Day 0: Reach Gangotri (2940 m). Acclimatization trek, visit the temple.
Day #1: Trek to Bhoj Kharak (3415 m).
Day #2: Trek to Kedar Kharak (4270 m).
Day #3: Trek to Kedar Tal (4760 m) and back to Kedar Kharak.
Day #4: Trek to Patangini Dhar base campsite (4540 m).
Day #5: Cross Patangini Dhar (5085 m) and reach Dhabba Camp Site (4685 m) in Rudugaira valley.
Day #6: Trek to Rudugaira / Auden's Col Advanced Base Camp (4975 m).
Day #7: Cross Auden's Col (5490 m), trek on Khatling, and reach Khatling Glacier campsite (4970 m).
Day #8: Trek the rest of the Khatling Glacier, cross the waterfall area (4300 m), and reach Khatling Base camp (3765 m).
Day #9: Cross Bhilangna river (3480 m), and reach Chowki campsite (3630 m).
Day #10: Trek to Masar Tal (4550 m).
Day #11: Trek to Masar Top (4695 m), Cross Mayali Pass (4990 m) and camp (4335 m) near Vasuki Tal.
Day #12: Trek Vasuki Tal (4210 m), trek to Vasuki Top (4480 m), and descend to Kedarnath (3530 m).
Day #13: Buffer day. It is mandatory to have this extra day as any bad weather or rain will delay your pass crossing. In case we use the buffer day, the trekkers would have to pay extra.
NOTE: Trekkers must reach the base camp of the trek (i.e. Gangotri town) at their own expense and everyone should keep two buffer days in an unforeseeable event (Heavy rain/snow or landslips etc.).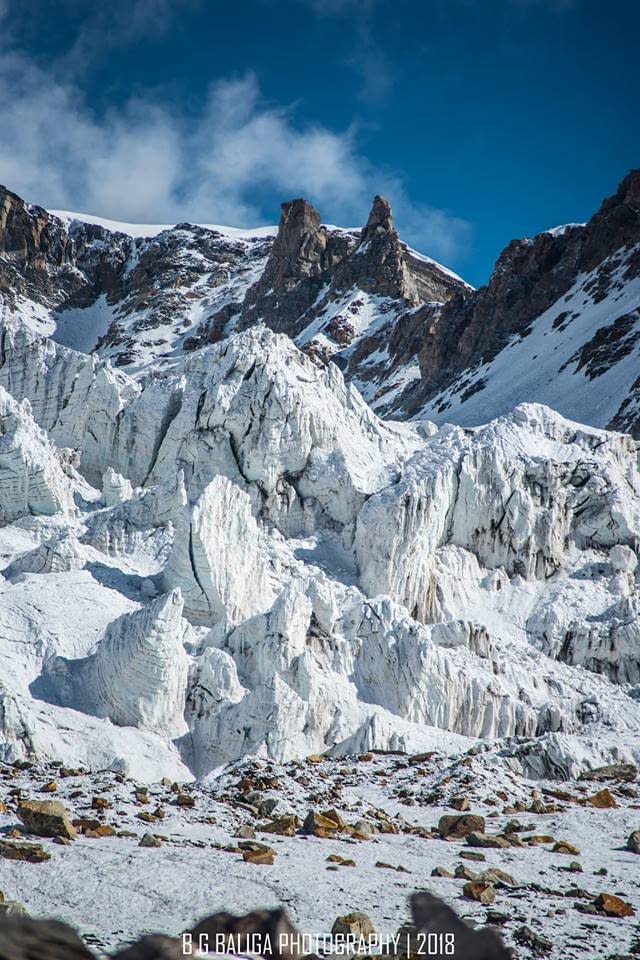 Khatling — one of the most notoriously difficult glaciers to negotiate in the western Himalayas of Uttarakhand.
The landform is strikingly similar to the Khumbu Icefalls of the Everest region.
Captured this surreal landscape while walking on Khatling Glacier during the noon hours of June 10th, 2018. Location: Khatling Glacier, Gangotri National Park, Uttarakhand, India
Condition for Auden's Col & Mayali pass trek.
You must have done at least one high altitude trek before. Those who do not have the requisite trek experience of high altitude passes should not apply.
You must be physically fit to do the 12-day Himalayan trek. The trek leads you up to 18,000 feet high Col of Auden's and through deep crevasses of Khatling glacier.
At this altitude, the air is thin and the rigors of the mountain can grind you down. You must give yourself enough time to prepare yourself for the trek.
Trekkers are required to bring a medical certificate deeming them fit for high-altitude trekking at the start of the trek.

Raacho Trekkers
Backpack carrying: A porter will carry your backpack, please do not bring extra items but only the essentials needed for high altitude trek. Besides detailed planning, taking care of all the logistics, food, and good equipment, packing a backpack efficiently and carrying essential things play a key role in the success of an expedition.
Auden's Col trek bare essentials
A pair of good quality waterproof trekking boots.
Three pairs of socks.
Two pairs of waterproof hiking pants.
A pair of shorts
Two pairs of fleece jumpers.
Two pairs of thermal tops and bottoms
One down jacket.
Headgear (1 beanie/skull cap, 1 buff, and 1 trekking cap).
A pair of thick gloves
Personal hygiene essentials (alcohol-based gel, hand sanitizer, soap, towels, toilet paper, baby wipes, etc.)
UV-block sunglasses.
First aid kit.
Water purifier and filtration bottle.
Trek FAQs
c

Expand All
C

Collapse All