Auden's col: The 3 Passes Trek Expedition
Auden's Col is a pass connecting Rudugaira valley and Bhilangna valley, named after John Bicknell Auden, a British Geographical Survey officer, who first discovered the route in 1935 and crossed it in 1939.
Kedartal , Gangotri National Park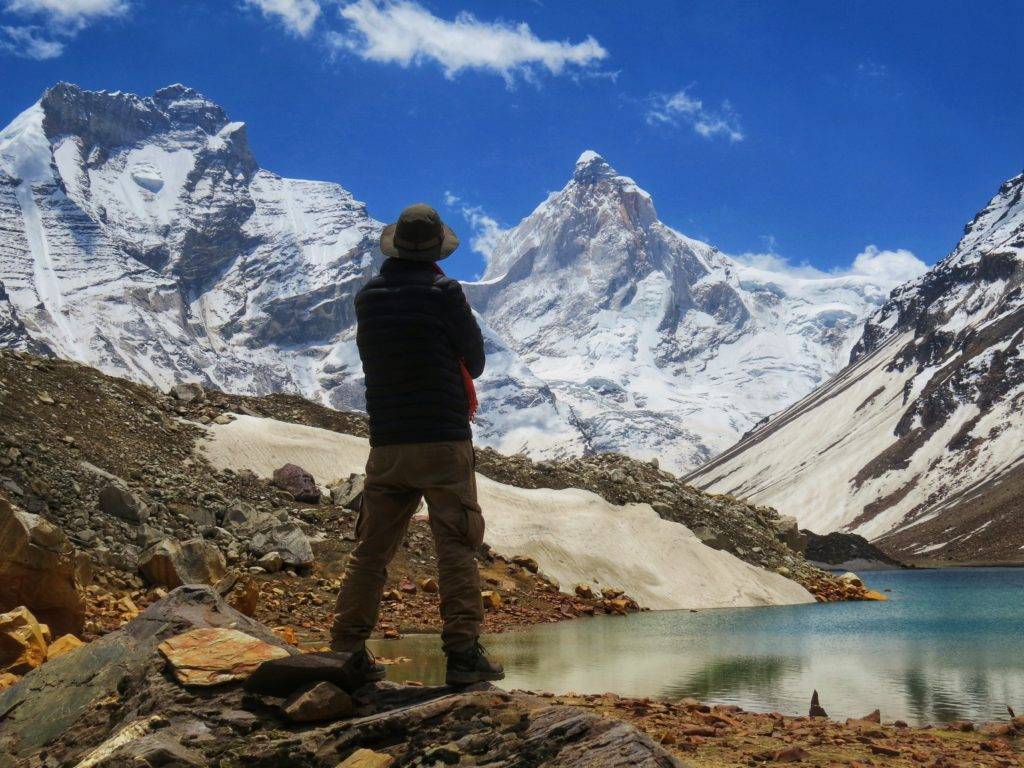 Kedartal lake. Thalay Sagar peak in background
Approaching Kedartal Lake
Snow camping. Enroute Auden's col.
Negotiating the Glacier. Auden's col in background.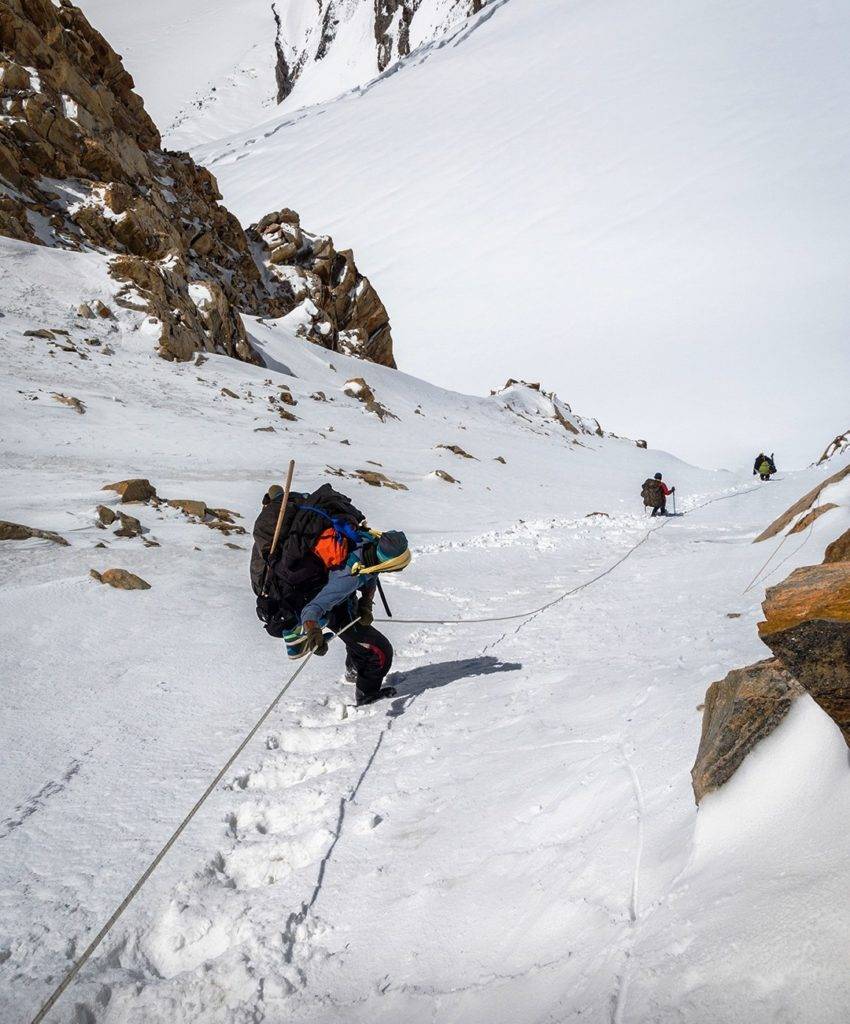 The summit is at 5490m altitude and connects the ridge coming from Gangotri III (6580m) peak on the north-west and the ridge coming from Jogin I (6465m) on the east, and also binds a glacier coming from Jogin I on the north side of Rudugaira valley, and deadly Khatling glacier on the south side of Bhilangna valley. To read more about the three passes trek please read a blog written by Neelima Vallangi. Sridevi Nair has also written a blog about The Three passes trek June 2018.
Rudraganga stream or Rudragairu (gairu means deep) or Rudugaira gad drains Rudugaira glacier and eventually flows into the Bhagirathi river near Gangotri, and Bhilangna river originates from Khatling glacier and meets the Bhagirathi near Old Tehri in Garhwal region.
Garhwal Himalayas
The regions of Garhwal and Kumaon borders on China and Nepal and are the most famous for their holy sites including Gangotri, the source of India's most sacred River Ganga. Located at the very center of the great Himalayan chain, Garhwal and Kumaon contain a host of 7,000-meter peaks such as Nanda Devi, Kamet and Trishul, and sub 7,000-metre expedition peaks such as the stunning Shivling, as well as over 250 peaks above 5500 meters.
The Garhwal Himalayas are characterized by unsurpassed mountain scenery with soaring ridges, deep valleys and huge glaciers and this trek take us right into the heart of the area.
What is Col?
The word 'Col' is a geographical term for a saddle-like depression in a ridge between two peaks. Auden's Col lies between Gangotri III (6537m) & Jogin I (6465m) and the crossing is one of the finest high altitude treks in the Indian Himalayas.
The Route
First, we took a side trip to visit Kedartal at the height of 4,780 meters. Then we climbed atop Patangani Dhar (4,900 meters) to get down into Rudragaira valley which provided access to Auden's Col. Auden's Col at 5,345 meters is nestled between Gangotri and Jogin mountain ranges.
We managed to cross Auden's Col and Khatling glacier in a single stretch and then descend down to Chowki campsite the next day. From Chowki we took a left turn upwards and reach Mayali Pass (5,050 meters) in the next two days, and then camped next to Vasuki Tal. From there we descended down to Kedarnath shrine and back into civilization.
What does Auden's col trek cost?
Auden's col trek Cost: drop an email or fill up the query form and group discounts & early bird discounts.
Itinerary:
Day 0: Reach Gangotri (2940m), acclimatization trek, visit the temple
Day 1: Trek to Bhoj Kharak (3415m)
Day 2: Trek to Kedar Kharak (4315m)
Day 3: Trek to Kedar Tal (4760m) and back to Kedar Kharak
Day 4: Trek to Patangini Dhar base campsite (4540m)
Day 5: Cross Patangini Dhar (5085m) and reach Dhabba Camp Site (4685m) in Rudugaira valley
Day 6: Trek to Rudugaira / Auden's Col Advanced Base Camp (4975m)
Day 7: Cross Auden's Col (5490m), trek on Khatling and reach Khatling campsite (4970m)
Day 8: Trek rest of the Khatling, cross waterfall area (4300m) and reach Khatling Base camp (3765m)
Day 9: Cross Bhilangna river (3480m), and reach Chowki campsite (3630m)
Day 10: Trek to Masar Tal (4550m)
Day 11: Trek to Masar Top (4695m), Cross Mayali Pass (4990m) and camp (4335m) near Vasuki Tal
Day 12: Trek Vashuki Tal (4210m), trek to Vashuki Top (4480m), and descend to Kedarnath (3530m)
Day 13: Buffer day. It is mandatory to have this extra day as any bad weather or rain will delay your pass crossing. In case we use the buffer day, you will have to pay us Rs.3,000 per day.
NOTE: Trekkers must reach the base camp of the trek at their own expense and everyone should keep 2 buffer days in an event of (Bad weather etc)
Criteria For A High-Altitude Trek.
You must have done at least one high altitude Pass trek before. Those who do not have requisite trek experience of high altitude passes should not apply
You must be physically fit to do the 12-day Himalayan trek. The trek climbs to 17,000 ft. At this altitude the air is thin and the rigors on the body high. You must give yourself sufficient time to prepare yourself for the trek
NOTE: Trekkers are required to bring a medical certificate deeming fit for high-altitude trekking at the start of the trek.
Backpack carrying: A porter will carry your backpack, please do not bring extra items but only the essentials needed for high altitude trek, the weight should be 15kg of your offloading backpack.
Services Included.

All arrangements for overnight stays during the trip.
Camping and climbing gear.
All food expenses
Food will usually consist of morning breakfast, lunch, evening high tea and dinner.
All food will be vegetarian.
Specially trained and certified guides for emergency situations.
Local guides and workers with in-depth knowledge about the local area.
One luggage per person will be transported by us.
Inner line permits and arrangements en route will be arranged by the operator.
All stays and lodging on a twin sharing basis shall be provided.
Besides good planning, logistics, food and good equipment packing a backpack and carrying essential things play a key role in the success of an expedition.